Harbor City Prostitution Sting on PCH, PDP and Dismissal
Our client, age 41, was returning home from work at one of the refineries in Wilmington. It was about 4:00 p.m., so it was still quite light out. He was in his work uniform and driving a company car with the company's name on its side and back area in bright colors.
As he drove westbound on Pacific Coast Highway (PCH), he came to a stop at a red light at President Avenue. To his right was a woman dressed in a black top, grey tights, black socks and short grey boots. She was a police decoy, a police officer assigned to a "trick task force" of the Harbor Vice Unit of the Los Angeles Police Department.
In a Nutshell: Client cited by Los Angeles Police Department Harbor Vice Unit for solicitation of prostitution in Harbor City along Pacific Coast Highway at President, near the Palm Hotel. Case resolved at the Long Beach Superior Court with no conviction, but the client did have to take the Prostitution Diversion Program (PDP).

Our client did not know this, so when she smiled at him and he rolled down his passenger window, she approached the car so she could talk. Our client told her she was looking very beautiful and she returned the compliment, telling him he was handsome. She asked him if he wanted a date and he responded by asking her what she had in mind. She told him she could offer him "everything" if he had enough money. He responded by saying he had $50 and she motioned for him to turn right at the corner and meet him in Room 112 of the nearby motel.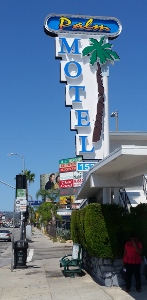 Our client, against his better judgement, turned his car at the light and drove into the motel's parking lot. He parked his company car by Room 112 and got out. He had seen the decoy go into Room 112, so he went to the door and knocked gently.
She answered the door and motioned for him to come inside. He sat down on the bed and out of the restroom came two undercover male police officers showing their badges. The client was holding $50 in his hand.
The officers were polite and respectful as they explained who they were and why our client was being arrested. Our client was shocked and confused and carted off to the Harbor Division of the LAPD, where he was booked for violation of Penal Code § 647(b) ("Solicitation of Prostitution") and photographed in his company uniform. He was later released a few hours later.
The next day, the client contacted Greg Hill & Associates and met with Greg Hill. Greg listened to the client explain what had happened and that the client had no prior criminal history of any sort. Greg explained how the Los Angeles City Attorney's office generally handled such cases out of the Long Beach Courthouse (Department 6, with Judge J.D. Lord).
Greg described how a few of his prior cases involving arrests at the same hotel involving the same police sting operation had went.
The client retained Greg Hill & Associates and, as Greg anticipated, the case was resolved for a dismissal after one year from entry of the "no contest" plea once the client participated in the prostitution diversion program (PDP) and had an HIV test taken.
When Greg went back to the Long Beach courthouse for a progress hearing on the client's PDP program and HIV test (the client completed both), the handling prosecutor was out and a newer Los Angeles City Attorney was present.
Greg therefore asked her if she would not mind dismissing the case now, at the six-month mark, something the normal Los Angeles City attorney assigned to the department would never ever consider. The newer prosecutor said "sure" and Greg made the request of the judge, who granted the request.
The client was ecstatic because he did not expect the early dismissal and because he was in the process of looking for a new job. He was happy to have the case dismissed on his record to help in his new job search.
For more information about prostitution issues, please click on the following articles:
Appeals Court Affirms LAPD Officer's Conviction for Solicitation of Prostitution (Penal Code § 647(b))
Contact us.