Gross Vehicular Manslaughter Based on DUI Due to THC?
There are many cases wherein someone is allegedly driving under the influence of marijuana (the active ingredient being Delta-9 Tetrahydrocannabinol or THC) that are simply dismissed because a prosecutor is aware that a drug recognition expert's testimony on the drug's effects is easy for a defendant to discredit and impeach.

Has such a hesitation to prosecute DUI based on marijuana led to a complete abandonment of such cases?
The answer is no, as the following case summary of a Second Appellate District Court opinion exemplifies.

Summary in 50 Words or Less: DUI based on intoxication from THC is still prosecuted, as the following case summary exemplifies, despite widespread recognition that drug recognition experts (DRE) are other easy to impeach for testimony concerning the effects of marijuana on driving.

The underlying case arose and led to a jury trial in the Airport Courthouse before Judge Lauren Weis Birnstein, who our office regards as an extremely tough judge in cases we have had before her. A jury found Absadi Tewelde Kidane guilty of gross vehicular manslaughter while intoxicated (Penal Code § 191.5(a)) and resisting arrest (Penal Code § 69). The jury also found true that Kidane fled the scene of the accident. Judge Birnstein imposed the upper term prison sentence of ten years on the 191.5(a) count, plus a consecutive (not concurrent) five-year term for the enhancement.

Kidane later appealed, arguing there was insufficient evidence to support his conviction.
The basic facts of the case took place in and near the parking lot of the Santa Monica Courthouse on the afternoon of March 21, 2017. On that day, Kidane was seen driving his car through the parking lot at a high rate of speed, hitting Donald Thomas, Jr. (throwing him more than 90 feet in the air), before crashing into a parked car and then running away from the scene on foot, only to be eventually caught and arrested. Analysis of the "Black Box" in Kidane's car after the crash showed he was traveling 53.4 miles per hour at the point of impact.
According to more than one of the officers at the scene, Kidane told officers, "I just want to smoke some weed."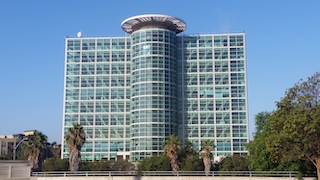 Airport Courthouse
Unfortunately for Kidane, the arresting officer was a certified Drug Recognition Expert (DRE), who evaluated Kidane for being under the influence of a controlled substance. The DRE noted that Kidane displayed "bloodshot and watery" eyes and that his pupils were "slightly dilated." He also noted dried debris in the corners of Kidane's mouth, repeated licking of his lips, grayish lip color and a rapid heart rate.
Once Kidane was taken to the police station, which is close to the Santa Monica Courthouse, the DRE noticed "additional characteristics of someone under the influence of marijuana," such as "eyelid flutters," periodic body tremors (like someone shivering) and a fluctuating respiration rate.

Defendant's blood was then drawn pursuant to a warrant.

After charges were filed, Kidane made a motion for mental health diversion under Penal Code § 1001.36, which Judge Birnstein denied. Kidane then entered a plea of not guilty by reason of insanity (Penal Code § 1017).
At trial, Ariana Adeye, a forensic toxicologist, testified about the effects of cannabis use on the human body, its impact on performing certain activities like driving, and defendant's blood test results.
The blood sample taken from Kidane approximately three hours after the accident showed 3.1 nanograms per milliliter of Delta-9 Tetrahydrocannabinol or THC, the psychoactive element in marijuana or cannabis that causes the "high" associated with its use. Approximately 75% of the THC leaves the blood within two hours of use. The body eventually metabolizes THC into Carboxy THC and it can stay at detectable level in the body for weeks after use. Kidane's blood showed 42.8 nanograms of Carboxy THC, which is indicative of frequent use.

At trial, evidence was presented showing Kidane's social media accounts, which showed many images related to marijuana use, as did texts on his cell phone recovered from his car.
Kidane introduced the testimony of expert Dewayne Beckner, a forensic chemist. He testified that there is no consensus in the scientific community regarding what concentration of marijuana will cause impairment. He stated his opinion that the level of Delta-9 THC reported in Kidane's blood sample was too low to cause erratic driving.
The Second Appellate District Court affirmed the verdict, finding there was ample evidence that Kidane was under the influence of THC insofar as he drove his car in an erratic and reckless manner through the courthouse parking lot in a busy time of the day, breaking through a parking gate arm and into the ticket machine where Thomas was standing. Moreover, he had bloodshot, watery eyes and his pupils were dilated. He had grayish lips, a dry mouth and body tremors.
We present this summary to show that in extreme cases, with a tough judge, such a conviction certainly can and will result, as it did in this case.
The citation for the Second Appellate District Court ruling discussed above is People v. Absadi Tewelde Kidane (2nd App. Dist., 2021) 60 Cal. App. 5th 817, 275 Cal. Rptr. 3d 162.
For more information about non-alcohol DUI, please click on the following articles: