Gardena, Second Time DUI, 0.19% BAC, Check Point Stop
Our client, age 32, was returning home to Gardena from a karaoke bar in Hermosa Beach. He had a DUI conviction from four and a half years earlier in Newport Beach, so he was distinctly aware of how serious the police could be about DUI.
As he was driving east on Redondo Beach Boulevard and into Gardena, he saw a bunch of flashing yellow lights and his curiosity was aroused. He continued forward and realized the flashing signs were for a DUI check point stop being conducted by the Gardena Police Department.
In a Nutshell: Second-time DUI with a 0.19% BAC and less than five years after his first DUI. Case resolved for three years of informal probation, $390 fine (plus penalties and assessments), SB38 and 96 hours of county jail. Lenient plea bargain offered when City of Gardena could not produce Ingersoll packet for the check point stop.
While he had indeed drunk a few beers in Hermosa Beach, he felt safe to drive, so he proceeded toward the line of cars braking as they entered the sobriety checkpoint. It was about 1:00 a.m.
When officers smelled our client's breath and looked at his eyes, they allegedly detected the odor of alcohol and saw bloodshot, watery eyes. They then asked him to pull over into a nearby Rite Aid parking lot, where they asked him to provide a breath sample. His blood alcohol content (BAC) measured in his breath was 0.19%, or more than double the legal limit.
He was promptly arrested and spent the next ten hours in the Gardena city jail.
When he was released, he knew he needed an attorney, as he was aware that the punishment for a second-time DUI was far more severe than for a first-time DUI. He called Greg Hill & Associates.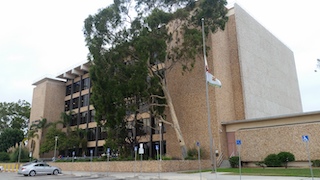 Torrance Courthouse
The client immediately spoke with Greg Hill and explained the facts, as well as his prior criminal history. Greg explained that it would be important to make sure the City of Gardena followed all the required notice requirements before conducting the checkpoint stop. The requirements are set forth in a case called
Ingersoll v. Palmer
(1987) 43 Cal.3d 1321, at 1327, 743 P.2d 1299, 241 Cal.Rptr. 42. It would also be important to see what the officer observed in his body-cam, if the officer was wearing one that was recording.
The case was filed in the Torrance Superior Court and Greg requested the Ingersoll packet, as it is commonly called. For four months, the City of Gardena reported having one and then not having one and again saying they had one, ultimately producing one only after Greg filed a motion to dismiss based on a discovery violation. It appeared to the judge and the prosecutor that the packet was only produced in response to the threat of the DUI being dismissed, so the prosecutor reduced the offer to the absolute minimum for a second-time DUI.
This meant the plea bargain included three years of summary probation, not four or five years. The fine was $390, not $450 or even $500 as is common, especially with such a high BAC as in this case. The client did still have to attend the SB38 eighteen-month alcohol awareness program and serve 96 hours of county jail, as is statutorily required. But he otherwise had no terms of probation that are common with a second-time DUI, such as attending the Mothers Against Drunk Driving (MADD) Victim Impact Panel (VIP) or the Hospital and Morgue Program (HAM). He also was not required to perform any community service.
The client and the judge could see that the relatively lenient and indeed minimal terms were a result of our office pushing hard for a dismissal and the Gardena Police Department's difficulty in producing an Ingersoll packet, although they ultimately produced it.
The client was happy that Greg Hill & Associates defended him as best possible in this check-point stop case, reducing the terms of the plea bargain to the minimums despite his rather high BAC and relatively brief time since his last DUI.
For more information about second-time DUI issues, please click on the following articles:
Contact us.