Gardena, 2nd Time DUI, VC 23153, Hit & Run, 0.16% BAC
In a Nutshell: Second-time DUI with car accident in Gardena, client assaulted by other car occupants and leaves scene for own personal safety, client's BAC 0.16%, hit and run charges dismissed, as were the DUI with injury charges, client sentenced to minimum second-time DUI terms.

Our client, age 29, had been out to Downtown El Segundo for a beer festival with friends. A few streets were shut down and people could walk freely on the streets. The weather was good and sunny, but not too hot. At the afternoon event, there were various craft beers and he enjoyed sampling many. He also had a hamburger and fries. It was relaxing and fun.

By the time 5:00 p.m. arrived, our client felt like he had drunk his share and so he switched to drinking water.
By 6:00 p.m., he felt sleepy and so he decided he had better head home to Compton to retire early for the evening.

For some reason, he was driving eastbound on Redondo Beach Boulevard toward Compton. He was east of Western Avenue when traffic came to a halt in front of him. This was near a big shopping center to his right.

When the client was looking over toward the shopping center, he accidentally rear-ended another car in front of him that had come to a stop. Our client got out of his car to exchange information with the other driver. Our client apologized that he thought it was his fault.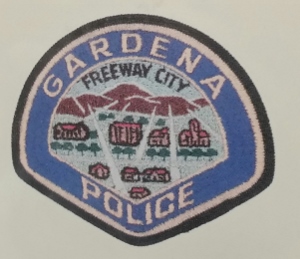 Gardena Police Department

The very large, tall woman in the other car immediately pushed our client in the chest, yelling at him. Her passengers, big Samoan women weighing perhaps 300 pounds, also punched him and pulled at his clothes to pull him to the ground. His t-shirt was ripped and he could see he was outnumbered. So, he ran away, leaving his car. But the large women waddled after him as fast as they could, but he was fit and fast, so running away from them was easy.
He jumped over a chain link fence that the large, fat women had no chance of clearing.
About fifteen minutes later, our client returned to the scene. He could see that the Gardena police had arrived. When our client returned to the scene, with his torn shirt and scratches bleeding on his chest and arm, he expected that the police would ask him how he was injured. He expected that when he explained what the angry women had done, the police would arrest them.
Instead, our client was immediately arrested. The police did not ask him what happened, they did not offer him a preliminary alcohol screening (PAS) test, they did not even ask him if he was drinking. Apparently, the women pointed out our client approaching and police felt compelled to simply arrest him without asking him anything.
Our client was taken to the Gardena Police Department and arrived there in only about two minutes, as the scene of the car accident was only two or three blocks from the car accident.
While at the police station, our client submitted to a breath test and was told his blood alcohol content (BAC) was 0.16%. This was our client's second DUI, so he knew this case would be seen as quite serious, especially because the officers kept claiming he "hit and ran." Our client's prior DUI was seven years earlier.
Once the client was released from the Gardena Police Station, he called Greg Hill & Associates and spoke with Greg. A friend of the client's had recommended Greg Hill & Associates.
Greg met with the client and listened to him describe what had happened. The client was not aware if anyone was injured, although he certainly was, but not from the collision.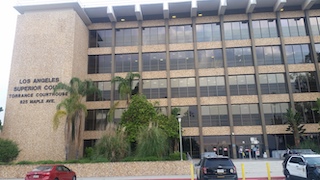 Torrance Courthouse
Greg explained how he expected the case to proceed in the Torrance Superior Court and at the DMV. Greg explained that if anyone was injured, the case could be filed as a felony DUI under Vehicle Code § 23153, but if the client was unaware of any injuries to others, it is likely that such injuries, if any, were minor. Greg recommended that the client enroll in the SB38 program now, if only as a volunteer and then "upgrade" his status once the court case began and a judge could order a referral to the SB38 program.
The client, soon to be an RN, was extremely worried because a felony of any sort would probably prevent him from becoming a licensed RN with the State of California. A second-time DUI, even as a misdemeanor, would be bad as well, but he may eventually show the nursing board sufficient rehabilitation to be licensed as an RN.
Greg then appeared in the Torrance Courthouse for the client's arraignment. The client was charged with violating Vehicle Code § 23153(a) and (b), as well as hit and run, Vehicle Code § 20001(a). In speaking to the DA, Greg explained how the case really was just a slow speed rear-end auto accident and that the client left the scene because he was attacked by the driver and passengers in the other car.
The District Attorney and Greg then listened to one of the audio recordings of one of the witnesses, which seemed to confirm this was true.
The DA ultimately offered to amend the complaint with a count of violating Vehicle Code § 23152(b), to which our client pled no contest.
He dismissed the hit and run charges, as well as the 23153(a) and (b) charges because none of the occupants of the other car could show they were injured.
Our client was happy with this ultimate resolution. He agreed to 48 months of informal probation, with the minimum 96 hours of county jail, an obligation to enroll in and complete the 18-month DUI program (SB38), pay court fines of $450 plus penalties and assessments (less credit of $250 toward the base fine for two days in actual custody), and payment of the City of Gardena booking fee, as well as restitution for any property damage allegedly caused.

We offer this summary to show how a case that seems quite bad at first may ultimately resolve on terms that are fair, if defense counsel and the prosecutor can discuss the facts and evaluate the evidence in an objective manner.
For more information about DUI in general, please click on the following articles:
Contact us.