Gang Enhancement Affirmed Due to Character Witness Testimony
The Gist of this Article: During trial, a defense witness testified how loyal defendant was to his friends and his community, unknowingly helping the prosecution prove that defendant acted to further, promote or assist a criminal street gang. Defendant represented himself in trial, showing why this is unwise.

Michael Resendez faced assault charges with a gang enhancement after allegedly attacking a man in Baldwin Park. Just before his assault, he rode his bicycle past the victim and yelled "East Side Bolen." The victim asked, "What did you say?" Resendez then got off his bike and punched the victim in the left eye and the back of the head. He then took him to the ground and kicked him several times, bit his wrist and put his fingers in the victim's left eye. He told the victim, "This is my varrio" and "my homies will come to help me."
He decided to represent himself as his own attorney.
The prosecution called Detective Adam Acuna to testify as an expert on criminal street gangs in Baldwin Park. He testified how Resendez was a self-admitted member of the East Side Bolens from the Locos clique, based on his prior interactions with Resendez and his tattoos. He further explained how there were five cliques within the East Side Bolens – the Locos, the Rascals, the Midgetcharros, the Charros and the Dukes. He described how members of one clique will hang out with members of other cliques within the gang.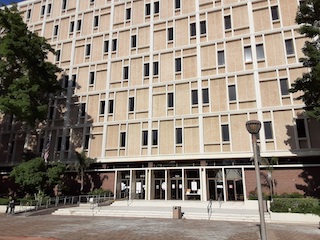 Pomona Court
Acuna testified how East Side Bolens are very territorial and that they pride themselves on respect and their territory. He opined that Resendez's attack was committed to benefit the gang as a whole by instilling fear of gang members in the community. It was also meant to facilitate the commission of other crimes in the future with impunity.
Acuna then testified to predicate felonies committed by other East Side Bolens gang members.
The jury found defendant guilty of assault by means likely to produce great bodily injury and with a deadly weapon. The jury found true the great bodily injury allegation. In a bifurcated trial (so the jury did not hear the other evidence), Resendez admitted the prior prison term allegations. The judge (Mike Camacho in Pomona Superior Court), sentenced defendant to an aggregate term of ten years in state prison.
Defendant appealed to the Second Appellate District Court of Appeal in downtown Los Angeles. He did not challenge the conviction for assault with a deadly weapon, but did argue that the prosecution failed to present sufficient evidence of a criminal street gang under the California Street Terrorism Enforcement and Prevention (STEP) Act, at Penal Code § 186.20, et seq.
The Second Appellate District opinion, in People v. Michael Resendez, disagreed (2019 DJDAR 6485). The appellate court pointed to the testimony of Joshua Patino and Carmelo Placeres, incarcerated member of the East Side Bolens (and of the Rascals and Midgetcharros subsets, respectively), who agreed to be removed from prison to testify as character witnesses for defendant.
Their testimony was intended to help Resendez, but helped the prosecution in surely unintended ways once the jury had the gang culture testimony of Officer Acuna in mind as a framework to consider such fellow gang member testimony.
Patino started his testimony by professing how he wanted to come to help Resendez. Patino was serving a 13-year sentence for robbery and beating up a cellmate in prison, who he described as a rapist. Patino testified that he had known Resendez for about 13 years. He described himself as being part of the Rascals clique. He described Resendez as loyal, respectful, reliable and honest. He said Resendez gives others "total respect – he would take off his shirt for me." He said he would leave "his girl" with him. Resendez, acting as his own attorney, commented back in front of the jury, "I trust you the same way, fool."
Then Resendez also commented that he wished he had been there when Patino beat up his cellmate in prison and that Patino "should have gotten a purple heart or something." Patino then commented that he would have expected Patino to back him up.
As if that was not enough evidence to establish gang membership, Resendez also had Mr. Placeres testify as a character witness Placeres testified that he was a member of the Midgetcharros clique. He described Resendez as a person "who looks out for those around him, respectful, loyal to those who deserve it, you know, in our culture." Placeres had a tattoo on his forehead that said Bolen.
The appellate court regarded this testimony with some hyperbole: "it is difficult to conceive of more powerful, direct evidence of a long-term relationship of trust and collaboration between members of different subsets of East Side Bolen than is found in the testimony of Mr. Patino and Mr. Placeres." Resendez demonstrated his close relationship with each witness.
In short, gang membership was solidly established by Resendez's own witnesses, quite ironically and sadly, epitomizing the dangers of being one's own attorney.
The citation for the Second Appellate District Court ruling discussed above is People v. Michael Resendez (2d App. Dist., 2017) 13 Cal.App.5th 181, 220 Cal. Rptr. 3d 118.

For more information about gang enhancements, please click on the following articles:
Contact us.