Fullerton, Near Heroes Bar, Public Urination, Dismissal
Our client, age 23, went out with family and a few friends to Heroes Bar & Grill in Fullerton. They had dinner there and lingered for a few drinks, stretching their time there until past midnight.
The group finally ended their evening and left. No sooner had our client walked fifty feet into toward his car than he realized he needed to urinate.
In 30 Words or Less: Client ticketed for public urination in Downtown Fullerton near Heroes Bar. Case dismissed through a civil compromise after client makes a $300 donation to the Fullerton Victim Witness Restitution Fund.

He considered going back to the bar, but he was with a group and was too embarrassed to ask the whole group to wait just for him, so he quickly darted into an alley behind the bar and found a place behind a van that he thought obscured anyone's view of him urinating. His main goal was to urinate quickly and regain contact with his group.
As he emerged from behind the van, there was a man standing by the van, waiting for our client. The man was holding a pad of tickets and asked our client to approach him, which our client did.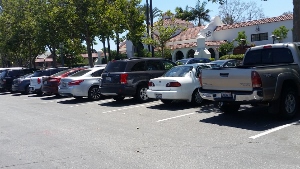 Parking Lot in Fullerton
The Fullerton Police Officer said, "you were urinating, weren't you?" Our client thought honesty would be the best approach, so he candidly admitted "yes." The officer followed up with "can I see some identification" and our client felt the weight of dread that the officer was about to issue a ticket.
This made the client realize his four-year degree in engineering from University of San Diego and his current employment with a market research group were now meaningless. His head was spinning as the officer copied down the information from our client's driver's license, handing it back with a quick, "sign here." The client had never even received a parking ticket, let alone a citation.
The client signed an agreement to appear in court in about two months, not really knowing what he was promising. He was anxious to get the ticket and rejoin his friends and family, so he took the ticket from the officer and ran to catch up with his group.
About two weeks later, he inspected the ticket and realized it was for a misdemeanor violation of Fullerton Municipal Code § 7.110.010(a). He read on the Internet that the maximum punishment was $500 and six months in county jail and he panicked. He would lose his job. How could he pay such a large fee.
He called several attorneys, eventually speaking to Greg Hill. Greg listened to the client explain what had happened and Greg described his experience in handling such cases. Greg explained how, if the client has no criminal history, he can often persuade the Fullerton City Attorney to enter into a civil compromise if the client makes a $300 donation to the Fullerton Victim Witness Restitution Fund. Greg then explained how Penal Code §§ 1377 and 1378 could apply and if the judge found that a civil compromise had been reached, the prosecutor could then move to dismiss the case under Penal Code 1385 ("in the interest of justice").
The client retained Greg Hill & Associates and about a month later, Greg appeared at the arraignment in the Fullerton Superior Court. He discussed the case with the Fullerton City Attorney and explained our client's lack of any criminal history, education, age, employment and whether a civil compromise was agreeable.
The Fullerton City Attorney agreed to such a resolution, so Greg quickly made the $300 donation to the Fullerton Victim Witness Restitution Fund and showed the receipt to the Fullerton City Attorney.
The case was then called and the Fullerton City Attorney advised the judge that a civil compromise had been reached and that he was asking the judge to dismiss the case in the interest of justice, which the judge did.
The client was happy to have his case dismissed and his clean record preserved.
For more information about public urination issues, please click on the following articles:
Contact us.