Fullerton Courthouse, Trespassing to Get Laptop, No File
Our client, age 29, had no prior criminal history and was gainfully employed in his family's furniture business.
He was arrested on in late 2019 after being inside his ex-girlfriend's apartment, for which he had a key, for about 30 seconds to retrieve his laptop and other miscellaneous possessions that were assembled and placed in a bag on the kitchen counter for him to pick up after the two broke up following an argument at Disneyland earlier in the day.
Our client's girlfriend had threatened to destroy his laptop, which our client needed for work, so retrieving his property was a high priority. His girlfriend has a significant history of mental illness and has been hospitalized at least once in the last year on a 5150 involuntary hold. She has threatened our client and others with making false rape allegations just to have the police arrest him (and others) and keep our client or others in jail. She has previously held the client's watch and refused to give it back, which had led to Brea police being involved in the past.
Earlier in the day, our client and his girlfriend visited Disneyland. As they were leaving, they got into an emotional, tense argument, leading to the client leaving his girlfriend and taking an Uber back to her apartment in Brea, rather than drive back with her (she drove the two to Disneyland in her car).

During the argument, his girlfriend had threatened to damage his laptop back at her apartment, so the client planned on retrieving it himself to prevent this. He had a key to the apartment. After all, she had a documented history of mental instability and was unpredictable enough that he had to take her threats seriously and not as idle hyperbole.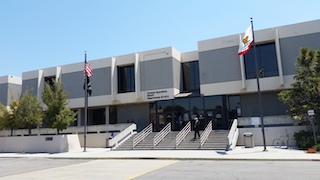 Fullerton Courthouse
Consequently, prior to entering, he called the Brea police for assistance in entering her apartment and keeping peace, but after he advised his girlfriend that he was seeking police assistance to keep the peace, she told him she would not be returning home because she was going out to eat. The Brea police, somewhat exasperated by this, therefore left.
Our client then used the keys to the apartment that she had let him carry for her and retrieved his laptop.
The girlfriend, upon returning to her apartment, then told the police that our client had stolen her Korean passport and other items, but this was not true, as our client intended to return such items (that she had left at his apartment weeks earlier), but was arrested by Brea police for trespassing (Penal Code § 602(m)) prior to being able to return them to the ex-girlfriend.
The client was then released after his girlfriend posted a $20,000 bond through a bail bonds company. A late November arraignment date was set at the Fullerton Courthouse.
The client then, upon being released, called up Greg Hill & Associates. He was confused and unclear what would happen and upset that the Fullerton police apparently believed his crazy girlfriend's lies.
Greg listened to the client explain what had happened before, during and after the visit to Disneyland.
Greg then asked that the client provide him with a current resume to send to the Anaheim City Attorney's Office, as well as the Brea Police, which he would forward with a request that the case be handled via an office hearing or even handled as a "no file." In the letter, Greg described how the girlfriend's prior threats to make false claims of rape, her prior 5150 holds and her lying to police about our client taking her Korean passport were significant issues the City Attorney needed to consider in deciding how to handle the case.
In contrast, Greg pointed out, our client had no criminal history, no history of mental illness and was merely trying to break up with his girlfriend as calmly and quickly as possible, but he needed his passport for work.
After Greg sent the two letters, no response was received. However, two days before the arraignment, our office called over to the Fullerton criminal clerks office at the Fullerton Courthouse to see if the case was filed.
Our office was advised that the case was a DA reject. We then advised our client of this great news, which made him quite happy.

For more information about trespassing and no file issues, please click on the following articles: