Franklin Hearings – Judge Can Decide if Testimony Needed.
Many well-meaning friends and family call our office asking about what is needed to have a Franklin Hearing. The friends and family are usually optimistic that there will be a hearing in court where they can see their loved one and perhaps even testify, as their loved one in custody sits nearby listening, about how the person in custody should be resentenced to a shorter sentence because he was immature at the time of committing the crime, he may have had a parent in prison or who had passed away and he may have had a learning disability or chemical / alcohol addiction.
Summary in 50 Words or Less: A Franklin Hearing is best regarded as not a hearing at all, but as a procedure where mitigation evidence is added to a file for a prisoner's future youth offender parole hearing. However, if such materials were already provided to the judge, a request for a Franklin hearing will be denied as the following case explains.

The caller often is eager to know "how soon" the hearing can take place because they have not been able to visit their loved one in months or even years.
Our response and answers to this caller are awkward for us to handle, as we must advise the caller that such a "hearing" really may not be a hearing at all in court. We must ask, furthermore, if their loved one even has a sentence with parole being offered (i.e. a Franklin Hearing does not apply to someone serving a sentence of life without the possibility of parole if the crime took place when defendant was under age 18 and later). The answer to this question from the caller leads us to clarify that the judge will not resentence their family member or loved one because the purpose of a Franklin Hearing is only to supplement the record for the person's next parole hearing. And such a "hearing" may actually be in chambers with no testimony provided in court at all.
Lastly, we must tell the caller that if the judge provided defendant with the opportunity at sentencing to present mitigating factors relating to defendant's youthfulness, immaturity and developmental shortcomings, perhaps through a forensic psychologist, but defense counsel did not present such factors or did so in a half-hearted way, defendant would be ineligible for a Franklin Hearing. Therefore, one must review the transcript from defendant's sentencing first and foremost to know if such a "hearing" is even an option for defendant.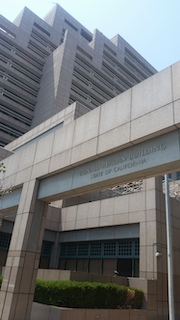 CA 2nd Appellate District LA
As mentioned above, the "hearing" may be handled completely in chambers and the loved one rarely is brought from prison to court even if there is a hearing. Nonetheless, the judge can order such a hearing in open court and all the family and friends who know defendant can come to court to support him or her.
Judges are wary of having such a hearing that could last for many hours. After all, judges must be patient and consider all facts.

Recently, the Second Appellate District Court of Appeals issued a ruling that many judges will appreciate and the families and friend of defendants will not like.
The ruling was in People v. Travis Sepulveda and the ruling was issued on April 1, 2020, but it is no joke.

Mr. Sepulveda had been convicted in Van Nuys Superior Court following two incidents. The first was an incident in November 2011 between the West Side Reseda Gang and the Canoga Park Alabama gang. At the time, Sepulveda was 18 years old. The second involved an altercation at an August 2014 party when Sepulveda was 21 years old.
Following a jury trial, Sepulveda was convicted of one count of first degree murder, three counts of attempted murder and one count of shooting from a motor vehicle. The jury found it true that he had personally discharged a firearm causing great bodily injury or death and that when committing each of the offenses, he did so for the benefit of a criminal street gang. He was sentenced to an aggregate indeterminate state prison term of 90 years to life.
Sepulveda appealed his sentence, by way of a writ of habeas corpus citing to Franklin (People v. Franklin (2016) 63 Cal.4th 261), because his counsel stipulated, without his consent, to limit information regarding youth-related mitigating factors to a written submission following his sentencing hearing. That procedure, he argued, violated his constitutional due process rights to present a defense, to cross-examine witnesses and be present at a critical stage of the criminal proceeding. Sepulveda also argued it was "per se ineffective assistance of counsel."
It should be noted that defense counsel did not just "wing it" on sentencing at all. Amy York, a capital mitigation investigation expert, was appointed to assist Sepulveda's counsel with preparation of material that would ultimately be presented at Sepulveda's youth offender parole hearing (25 years after sentencing). After sentencing, Sepulveda's defense counsel filed a lengthy memorandum of youth-related mitigating factors, supported by psychological and educational assessments, school records and interviews with Sepulveda's family.
In response to Sepulveda's "request for a Franklin Hearing," the judge affirmed the sentence, finding that Sepulveda did not make out a prima facie case of ineffective assistance of counsel and therefore did not set an order to show cause hearing for Sepulveda to present additional evidence for his youth offender parole hearing.

We present this summary to demonstrate that for a "Franklin Hearing," petitioner must first and foremost establish that he or she was not afforded the opportunity to present evidence of defendant's "hallmark features of youth and any subsequent growth and maturity of the prisoner." Here, that was done for Sepulveda by his counsel so Sepulveda's request for such a hearing was denied in chambers.
The citation for the Second Appellate District Court ruling discussed above is People v. Travis Sepulveda (2d App. Dist., 2020) 47 Cal. App. 5th 291, 260 Cal. Rptr. 3d 703.


For more information about Franklin Hearings, please click on the following articles: