Franklin Hearing – Tough Case for Silence at Sentencing
In 2016, the California Supreme Court held in People v. Franklin (2016) 63 Cal.4th 261 that when a juvenile offender receives an indeterminate life sentence, the offender must be "given adequate opportunity at sentencing to make a record of mitigating evidence tied to his youth." Id. at 269. In the Franklin case, the Supreme Court of California remanded the case back to the trial court level to determine if the juvenile had been given an adequate opportunity to make such a record. Id., at 286-287.
This decision followed a growing consensus among courts, including the U.S. Supreme Court (Miller v. Alabama (2012) 567 U.S. ___, 132 S. Ct. 2455, 2460 and Graham v. Florida (2010) 560 U.S. 48), that juvenile offenders are not "mini-adults" and some can fundamentally improve their judgement and decision-making abilities to potentially be released back to society to become contributing members of society. A court can consider at sentencing the juvenile's age at the time of the offense and his "incorrigibility" or potential for change, i.e., his (or her) criminal history, family circumstances, peer pressures, substance and alcohol abuse, acknowledgement of wrongdoing, education level, and understanding of what happened, among other factors.
In a Nutshell: A judge can deny defendant a Franklin Hearing if defendant's counsel was previously given an "adequate opportunity" to present mitigating factors related to defendant's youthfulness when he committed the crime, but defendant's counsel did so or chose not to present such evidence. The important issue is whether the sentencing judge gave defendant or his counsel this opportunity, which is all that Franklin requires.

On September 30, 2019, in People v. Carranza, ____ Cal.App.5th ____ (2019 WL 4745461), held that the right to a Franklin proceeding can be waived either orally or in writing, but cannot be forfeited by inaction. However, Carranza was an appellate court decision and not from the California Supreme Court.
In the following case summary, the Fourth Appellate Court addressed whether a request for a Franklin hearing can be denied because the trial court record shows that the offender was given an adequate opportunity at sentencing to make a record of mitigating evidence related to his or her youth, but through choice or inadvertence did not.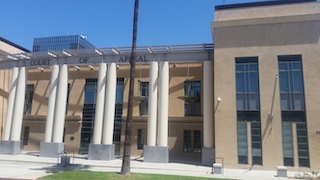 4th Appellate District Division 2 Riverside
In March of 2016, in Riverside, three men beat up a pedestrian walking by the Magnolia Tree Apartments. The pedestrian later identified Michael Damion Jude Medrano, then 19 years old, as one of the assailants. The three also took his cell phone and wallet. The same night, Medrano stabbed a man in front of the same apartment complex and admitted to this to one of his friends. As if that was not enough, Medrano and the same other two friends beat up a third man walking by the apartment complex, also taking his wallet and cell phone.
Police rather quickly focused on Medrano, even finding him wearing shoes with blood on the them from the second victim.
Medrano was convicted in December, 2017 (after Franklin was decided) of first-degree murder, two counts of second-degree robbery and one count of assault with force likely to produce great bodily injury (Penal Code § 245(a)(4)).
Judge Randall Donald White sentenced Medrano to an indeterminate sentence of twenty-five years to life, plus seven years.

Medrano appealed the conviction and sentencing on several grounds, but this article will focus only on his claim that he was entitled to have a Franklin hearing, wherein he could present evidence of his youth-related characteristics as outlined in Franklin.
Medrano argued that his counsel did not understand the need and opportunity to develop the record with the type of evidence at sentencing as Franklin contemplated.
The Fourth Appellate District, in People v. Michael Damion Jude Medrano (2019 DJDAR 9612) disagreed, finding that the record did not show Medrano was denied an adequate opportunity to present such evidence. Instead, the appellate court pointed out that it appeared counsel failed to present such evidence "by choice or inadvertence," which is insufficient to trigger a remand for a Franklin hearing.
We present this summary of this rather tough decision because we have received many phone calls from family members who have loved ones in custody for crimes committed as a person age 25 years old or younger. Such callers seem to be of the opinion that a Franklin hearing is guaranteed just based on the age of the offender and nothing else. We always ask if there was sufficient opportunity at sentencing for the presentation of such youth-related evidence and the caller usually does not know. In other words, one can demand a Franklin hearing, as did Medrano here, and that request can be denied.
The Fourth Appellate District seemed to appreciate the disappointment Medrano had in not getting a Franklin hearing and in response, offered some comments our reader may find valuable. It noted that while a writ of habeas corpus would be an inappropriate procedural method for obtaining a Franklin hearing, a juvenile offender may file a motion under Penal Code § 1203.01 (and request the trial court exercise its power under Code of Civil Procedure § 187) for the purpose of making a record of mitigating and youth-related evidence. In re Cook (2019) 7 Cal.5th 439, at 446-447 (Cook was a habeas case, but the court there recommended 1203.01 as an alternative).
The citation for the Fourth Appellate District Court ruling discussed above is People v. Michael Damion Jude Medrano (4th App. Dist., 2019) 40 Cal.App.5th 961.

For more information about juvenile sentencing issues, please click on the following articles:
Contact us.