Fourth Strike, Estes Robbery, Gun, Downtown LA, Probation
Our client, age 35, was no stranger to our criminal justice system. She (originally male at birth) had 38 prior convictions for a wide variety of crimes, including three prior convictions for offenses listed under the Three Strikes Law. Her offenses ranged from prostitution to identity theft to shoplifting to robbery.
She was fortunate enough to secure probation on her third strike, which was also an Estes robbery (a shoplifting turns into a fight with the store owner or loss prevention as the suspect is leaving the store after stealing some item(s)), and had been accepted into a government program for those struggling with mental health issues. She would attend vocational training and classes during the day and was given an apartment that the program funded with free rent. She also received a stipend each month to buy food and pay for miscellaneous expenses.
The apartment was located south of Downtown Los Angeles, near the "Fashion District."

One day, she went over to the Santee Alley area to buy some fake eyelashes. For a woman, she was larger than average – about five feet, eleven inches tall and 220 pounds. She went into a small store just before closing time. She found the eyelashes she wanted and handed the young female a ten-dollar bill. The item cost $5.00, so she expected change of $5.00. The store did not use a cash register, so the clerk had to search for a five-dollar bill or five one-dollar bills for change.
As she stood waiting for her change, a male employee of the store told our client that the store was closing and she would have to leave. Our client acknowledged this and said, "O.K., I just need the change." Before our client could get her change, the man told our client to leave and our client, who did not have a lot of money, again said, "No, I'm waiting for my change."
The man then called the police, who arrived very quickly, ordering our client to return the eyelashes. When the client, angry at this point, did so, the clerk in the store handed our client back her $10 bill. At this point, however, our client was already in handcuffs, so she held the ten-dollar bill in her handcuffed hands.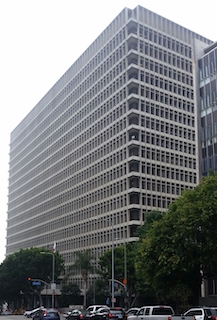 Clara Shortridge Foltz Criminal Courts Building CCB Downtown LA
Police asked our client if she was on probation and she said she was for robbery. Police then asked the store owner if our client used a gun and the store owner said "yes." Police then announced that our client was being arrested for robbery again.
Our client was then loaded into a police car and taken to a police substation just south of the Santee Alley area, but north of the Metropolitan Court, where she was booked. She was still holding the $10 bill when the police officer unlocked the handcuffs for her booking. This suggested she had not stolen the eyelashes at all, but had paid for them.
Bail for our client was set at $1,075,000 due to her three prior strikes, the use of a gun and the crime being robbery (alleged). No gun was found in her possession.
The client first opted for a public defender, who assured our client that the case would be dismissed. However, the prosecution was not able to get the police officer's body cam video, which our client believed would show the clerk returning the client the $10 bill, or the booking video, also showing our client holding the ten dollar bill.
After three months of no progress on her case, a preliminary hearing took place and all the charges were sustained. Our client started to get nervous because a different public defender came to court each time and, each time, the public defender promised dismissal, but the case proceeded onward.
The family of the client then contacted Greg Hill & Associates and retained Greg. Greg immediately went to Men's Central Jail and visited with the client (the client was held in Men's Central Jail although she identified as female). Greg listened to the client explain what had taken place and Greg explained what type of evidence he thought was available that needed to be produced. Greg also explained why the client was being charged with a robbery (an "Estes Robbery" and how a gun enhancement could be charged even if no gun was found, but the "victim" thought – although mistakenly – that our client had a gun and threatened to use it to complete the theft).
Greg later received the police report, the complaint and the client's criminal history. Based on her charges and her criminal history, our client faced twenty-five years to life in state prison just based on the fourth strike, another twenty-five years to life for use of a firearm, three consecutive five-year terms for three prior prison sentences in the last five years, nine years on a joint suspended for one of the three cases she was on probation for, plus two one year terms for committing the crime while on bail for other cases and two two-year terms for violating probation on the other two cases she was on probation for. In other words, our client's exposure for alleging trying to steal a five-dollar pair of fake eyelashes by force was 80 years to life if she were convicted at trial and thereafter sentenced.
Greg explained this exposure to the client, who discounted this, assuring Greg that the case would resolve for misdemeanor shoplifting.
In fact, this almost did happen. Over the course of a few more appearances, Greg was able to negotiate probation for our client with four years suspended and credit for time served towards her joint suspended of nine years in the third robbery (157 days). She was released from jail the following day.

It should be understood by the reader of this summary that this extraordinary result was greatly influenced by a very sympathetic district attorney and an equally sympathetic judge who allowed such a plea bargain. In addition, this resolution took place during the height of Covid 19, when our courts were trying to keep people out of the jails and prisons, so this also helped our client quite a bit.

We feel we will never ever again resolve a fourth-strike case for probation, let alone one with such a huge criminal history. While Greg does indeed did negotiate the plea bargain, it would never have been possible without a prosecutor who we highly respect (whose name we'll omit out of respect for him) and a judge with a very big heart for those who are not so fortunate as most people.
For more information about a few of the many issues in this case, please click on the following articles: