Is There an Attempted Estes Robbery under P.C. §663?
Robbery, under California Penal Code §211, is the "felonious taking of another's personal property, from his person or immediate presence, against his will, by means of force or fear." It includes "two phases: acquiring the property and carrying it away." People v. Gomez (2008) 43 Cal.4th 249, 255.

Summary in 30 Words or Less: There can be an attempted Estes robbery, although the defendant in the following case made a legally valiant effort to logically explain why no such crime exists.

In an Estes robbery, in contrast to a "regular robbery," force or fear is used in carrying away the property. People v. Estes (1983) 147 Cal. App. 3d 23. The First Appellate District Court of Appeal described the typical Estes robbery as starting with shoplifting, but turns into a robbery when the thief is confronted by a loss prevention officer of the store and the thief assaults the loss prevention officer in an attempt to get away. Estes, supra, at 28.

Defendant Wesley John Robins was alleged to have aided and abetted in what started out as shoplifting, but turned into an Estes robbery, followed by his evading authorities. He was then convicted of attempted second-degree robbery (Penal Code §§ 664(a), 211, 212.5(c)) and felony evading a police officer (Vehicle Code §2800.2).

His sentencing took into account his prior conviction for a strike (Penal Code §§ 667.5(d) & (e), 1170.12(b), (c)(1)), a prior prison term (Penal Code § 667.5(b)) and a prior serious felony (Penal Code § 667 (a)(1)). The Orange County Superior Court judge handling the case, Nancy E. Zeltzer, sentenced him to 32 months in state prison, which was double the low-term of 16 months because of the prior strike. The judge imposed, but then struck the five-year sentence enhancement for a prior serious felony and imposed, but then struck a one-year enhancement for a prior prison term.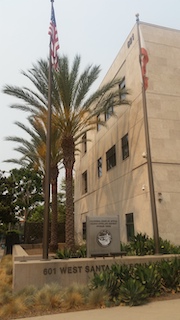 CA 4th Appellate District Division 3 OC
Robins appealed the conviction on three grounds, but this article will limit its scope to just the argument that Robins cannot be convicted of an attempted Estes robbery because there is no such crime. Paradoxically, Robins argued that he did not just attempt the crime; he completed it. He argued that once someone, for example, takes items from a store and uses force to get away, the crime is committed. It really does not matter if a store employee later retrieves the property, Robins argued. The moment that force is used in the escape, the robbery takes place.

The reader may wonder at this point if this is truly a clever argument to vacate his conviction as legally improper or is it just legal syllogism?

To get to the answer, one must have some familiarity with the facts of Robins' case. On a December evening in 2017, a few days before Christmas, he and his girlfriend, Kristin Linn Benson, went to the Brea Mall. A loss prevention officer saw them together and noted suspicious behavior. Apparently, Benson was haphazardly acquiring a large amount of clothes without looking at the sizes of the items. She was just taking the clothes off the rack and stacking them in her cart.

She then walked out of the store without paying for any of the items, arms full of merchandise, and walked to a van parked near the exit to the store. The van's driver had the engine running. The loss prevention officer then confronted Benson about the items taken and Benson became aggressive, pushing the loss prevention officer back a few steps. Benson then dropped the clothes and ran to the van. The loss prevention officer, however, grabbed Benson by her arm and Benson yelled.

Two men, one being Robins, then got out of the van and took a fighting stance by the loss prevention officer. One of the men told the loss prevention officer to let go of Benson and she did so. Benson then got into the van with the two men and left the mall.

The value of the merchandise left on the ground was $765. A Brea Police officer then spotted the van and chased it for a short time through the parking lot at high speeds. The driver of the van eventually lost control and slammed into parked cars. Robins was then arrested, charged and later convicted as described above.
Robins' argument is that to constitute robbery, the robber must possess the property, if only briefly. People v. Pruitt (1969) 269 Cal.App.2d 501, 506. If the thief abandons the property or the property is confiscated before using force, there is no robbery. Instead, Robins argued, there is a theft and then an assault. If the thief uses force while still in possession of the property, the Estes robbery is complete the moment force is used, argued Robins. In other words, there is no middle ground of an attempted Estes robbery like he was convicted of.

The Fourth Appellate District "unraveled this riddle," as they described Robins' argument, by noting that there can be a successful attempt. Under Penal Code § 663, a defendant can be convicted of an attempt to commit a crime even though the crime, in fact, was completed." People v. Rundle (2008) 43 Cal.4th 76, 138, fn. 28, disapproved on other grounds by People v. Doolin (2009) 45 Cal.4th 390, 421, fn. 22).

As such, Robins' appeal was denied.

We bring this case summary to the reader's attention for a very important learning point: under appropriate circumstances, one can preserve the right to certain post-conviction remedies such as expungement by pleading to an attempted crime when in fact defendant completed the crime (i.e. Penal Code § 288(a) can be resolved as a violation of attempted lewd acts, Penal Code §§ 663/288(a), and be able to expunge the conviction upon successful completion of probation, if probation is ordered).

The citation for the Fourth Appellate District Court ruling discussed above is People v. Wesley John Robins (4th App. Dist. 2019) 44 Cal. App. 5th 413, 257 Cal. Rptr. 3d 663.

For more information about robbery, please click on the following articles: