Fourth Amendment Warrant Exception Gone for Driver ID Search
As the reader of this article may know, the U.S. Constitution, at the Fourth Amendment, provides the general right of privacy and the corresponding obligation of our government to obtain a search warrant if seeking access to an area that one has "a reasonable expectation of privacy" in. Riley v. California (2014) 573 U.S. 373, 385. The Tenth Amendment makes the Fourth Amendment applicable to each state. A search and seizure without a warrant is presumed to be unreasonable and illegal. Vernonia School Dist. 47 v. Acton (1995) 515 U.S. 646, 653; People v. Redd (2010) 48 Cal.4th 691, 719.
Summary in 35 Words or Less: Officers do not enjoy an exception to the Fourth Amendment warrant requirement if officers need to search a car's interior to find the driver's identification. Instead, officers can and should just request a warrant.

Hundreds, if not thousands of cases, have interpreted exactly what a reasonable expectation of privacy includes and certain exceptions to the warrant requirement. See i.e. Katz v. Unites States (1967) 389 U.S. 347, 357.
One of those exceptions had been, for many years, that police were excused from obtaining a search warrant if the officer needed to "perform a limited search" to search the interior of a car for identification of a driver after a traffic stop when the driver failed to provide a license or personal identification upon request. In re Arturo D. (2002) 27 Cal. 4th 60.

Defense attorneys, for years, have raised concerns that such an exception has served as carte blanche for all kinds of vehicle searches that otherwise really would require a search warrant. Indeed, at the time In re Arturo D. was decided, no other state except California had recognized such a warrant exception – and still, none does 17 years later in 2019.
On the morning of July 4, 2014, City of Woodland Police Officer Jeff Moe responded to an anonymous tip concerning erratic driving. The caller described the car, a dark-colored Toyota, and the area where it was seen driving. Moe could not find the car at first.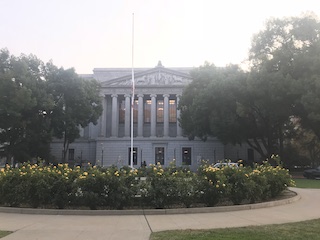 Court of Appeal Third Appellate District Sacramento
A little while later, a second anonymous tip was made concerning the same car and asserted that the driver, "Marlena," had been drinking all day. It was now 1:30 a.m. Moe still could not find the car, but went to the address where the car was registered. He then parked and waited.

A few minutes later, Maria Elena Lopez drove up and parked in front of the house in the dark-colored Toyota. Moe did not observe any erratic driving or Vehicle Code violations. However, believing the driver to be "Marlena," he approached the car.
Moe testified at a later motion to suppress hearing that when Lopez saw him, she appeared nervous and got out of the car and began walking away from him. Moe did not observe the odor of alcohol or any other signs of intoxication.

Moe nonetheless asked the woman if she had a driver's license. Lopez said she did not. Without asking her for her name or other identifying information, he then detained her, placing her in a "control hold." When Lopez tried to pull away, he handcuffed her.
Moe then asked her if she possibly had any identification in the vehicle. Lopez said "there might be." A second officer then at the scene, without Lopez's consent, then opened the car door and retrieved a small purse from the passenger seat and handed it to Moe. Moe then searched the purse and found a small baggie containing methamphetamine.
Lopez was charged with misdemeanor violations of possession of methamphetamine (Health & Safety Code § 11377(a)) and driving when her license to drive had been suspended (Vehicle Code § 14601.2(a)).
She then filed a motion to suppress evidence under Penal Code § 1538.5(a)(1), arguing that she had been unlawfully detained and her purse unlawfully searched.
The trial court judge in Yolo County granted the motion, finding that the search was illegal because Lopez had already told Moe that she had no license to drive, so there was no need to gratuitously search the car.

As might be expected, the People appealed to the Third Appellate District Court in Sacramento. The Third Appellate District reversed, finding the search was legal under In re Arturo D., supra, to search for other forms of identification in order to ensure that any citation and notice to appear reflected Lopez's true identity. After all, many drivers will lie about their identity to prevent receiving a ticket attributable to their true identity.
Lopez then appealed to the California Supreme Court, which traced the development of the caselaw establishing the limits of the Fourth Amendment, eventually arriving at a discussion of In re Arturo D. In In re Arturo D., officers had performed a search of a car much like that conducted in Lopez and found a small box containing methamphetamine. In In re Arturo D., however, the stated goal of the vehicle search was for vehicle registration.
While acknowledging that the state has an important interest in identifying the driver so that it can properly cite the driver for a traffic violation and pointing out that drivers have a reduced expectation of privacy while driving a vehicle on a public thoroughfare (New York v. Class (1986) 475 U.S. 106, 112-113), the California Supreme Court (People v. Maria Elena Lopez (2019 DJDAR 10922)) ruled that the need to obtain a driver's identification following a traffic stop was not an independent, categorical exception to the warrant requirement. For example, a warrant certainly could be obtained and there was no exigency, i.e. based on officer safety, to search the interior if the driver was detained or arrested already.
Therefore, this case eliminated the exception to the warrant requirement for searches to locate a driver's identification following a traffic stop.
The citation for the California Supreme Court ruling discussed above is People v. Maria Elena Lopez (2019) 8 Cal..5th 353.

For more information about exceptions to the Fourth Amendment in the context of automobile stops, please click on the following articles: