Fontana, Ecstasy - 1000 pills, 180 Days in County Jail
Our client, age 22, was arrested for transportation and intent to sell 1,000 Ecstasy pills. The Fontana District Attorney charged our client with two felonies for violation of California Health and Safety Code sections 11378 and 11379, possession for sale and transportation of a controlled substance, respectively. He faced a total of seven years in prison if convicted.
Without All the Details, What Happened? Client charged in Fontana Superior Court with intent to sell a controlled substance after client agrees to sell 1,000 Ecstasy pills to an undercover agent and police arrest him with such pills in his car. Case resolved for 180 days of county jail and no probation.

These were serious charges, especially when one considers that the drug Ecstasy was originally legal for many years. In fact, it was developed by Merck in 1912, more than one hundred years ago and used by our army in the 1950's to help soldiers cope with the demands of warfare. In fact, it was not until 1985 that it was made illegal.
The events leading to his arrest began when an acquaintance of our client, working for the Fontana Police Department (unknown to our client), asked our client if he could sell him 1,000 Ecstasy pills, known as Superman pills because of their blue and red colors like the cartoon character. Our client agreed and suggested they meet in Target parking.
Our client, who was not a U.S. citizen, then drove to the Target with his girlfriend and parked. Officers were already in the lot, waiting for him. After our client displayed what officers deemed behavior indicative of an intent to sell, they rushed the car and pulled him out, handcuffing him immediately. This type of quick, conclusory police conduct is ripe for a motion to suppress in most cases.
Police also searched our client's pockets and found over $1,000 in cash. They also took his cell phone, which had the text messages from our client's friend seeking a purchase.
They then asked our client for consent to search the car, which he refused, as it was not his car, but his girlfriend's car. According to the police report, the girlfriend then permitted a search and described where the pills were (under cookies in a traditional Mexican cookie tin box). No
Miranda
warnings were ever given to either our client or his girlfriend at any point, including after our client was detained by police.
When asked for his name, our client gave the name of his cousin, who was a U.S. Citizen. Officers, however, asked him again and again – and finally, our client gave his correct name. This type of resisting arrest is a separate crime, but it was not charged in light of the find of the Superman pills.
The girlfriend was not charged with conspiracy, transportation or intent to sell.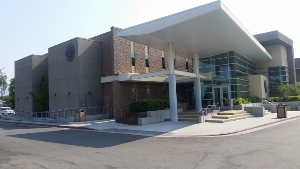 Fontana Superior Courthouse
Greg Hill negotiated with the Fontana District Attorney to where our client was offered 180 days of jail and a dismissal of the transportation charge. The case was tricky in that if the girlfriend were to testify about her presence at the arrest and the lack of
Miranda
warnings, she too could be charged with several felonies. The problem was that such a motion to suppress the fruits of the illegal search might fail and the plea bargain offered might be revoked. In a balancing of risks, our client accepted the plea bargain to plead to only the possession charge. He wanted to also protect his girlfriend, who he hoped to marry some day.
For more information about ecstasy issues, click on the following articles:
Watch our Video about Drug Offenses by clicking
here
.
Contact us.