Felony Domestic Violence, Female, Long Beach, Knife
Our client, age 21, had a bright future. She worked in a pharmacy and as an English tutor at an Orange County community college. She was ambitious and articulate.
One day, she and her boyfriend, age 19, were at the home of her boyfriend's parents in Long Beach, where her boyfriend lived. There was an upcoming birthday party for her grandmother and in her culture, such a birthday party is a major event, where planning takes place weeks in advance and the food must be perfect. Attention to the details was extremely important.
While at her boyfriend's home, our client took a nap. She was fast asleep when her cell phone rang and her boyfriend answered. It was our client's grandmother, who asked that the boyfriend take a message regarding a certain type of Vietnamese bologna that was important to have at her party.

When the client awoke, her boyfriend relayed the message, which our client immediately understood to be wrong. She became enraged at her boyfriend for not listening to her grandmother and relaying the message accurately, as he had done this type of thing previously.

He apologized, but this only made our client angrier. Although only five foot, six inches tall and maybe 100 pounds, she started punching her boyfriend, who was a foot taller and 80 pounds heavier, yelling, "You're so stupid! You idiot!" She punched him in his face and then, as he raised his hands to cover his face, she kicked him approximately times in the groin. This caused him to bend over in severe pain and once this happened, she punched him about twenty times in his head and on his face.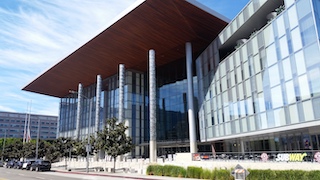 Long Beach Courthouse
He finally defended himself and told her to calm down, that they needed to talk. This only made our client even angrier, especially when he said that he would not let her leave without a calm conversation. So she ran to the kitchen and grabbed a large kitchen knife, which she raised up, threatening to slit her wrists to commit suicide if he did not let her go home. The boyfriend then tried to take away the knife, but she used the knife's wooden handle to hit the boyfriend all over his forearms and hands.
The boyfriend's brother heard all the noise as our client ran from the house to her car. The boyfriend sustained minor bruising on his forearms and thought his hand may have been broken due to the blows from the knife's hand wooden handle.
Police came and saw visible swelling to the boyfriend's hand and a few small scratches to his arms. The boyfriend told police what happened and told police that he desired prosecution. He told police that she had assaulted him several times in the past as well.
Police prepared a report and forwarded it to the Long Beach District Attorney with a recommendation of filing a case for felony domestic violence (a violation of Penal Code § 273.5) and felony assault with a deadly weapon (a violation of Penal Code § 245(a)(1)), a strike.
The Long Beach District Attorney then filed a criminal complaint exactly according to the police recommendation and sent our client a letter advising her that such a case had been filed.
The client, upon receipt of this letter, called Greg Hill & Associates to ask what punishment she faced and what she could do to avoid it or mitigate it. Greg and the client discussed the facts of the case and how self-defense by the client, in being falsely imprisoned, may account for some of the injuries claimed by her boyfriend.
Greg asked the client to send him photographs of the house so he could show the prosecutor how the client was trapped inside the house by her boyfriend, which explained why she used the handle of the knife as a weapon to strike his hands away so she could escape the house.
The client provided such photographs (as she had her boyfriend's brother take such photographs for her). Greg also recommended that the client start a batterer's program and an anger management program, something that was rare. Usually, a defendant would not attend both classes, but Greg thought it would help the client in this case.
Greg then appeared in the Long Beach Superior Court with the client on the two felony charges. The initial offer from the Long Beach District Attorney assigned to the case was two years in state prison. The prosecutor commented, "your client really has big anger issues."

Over the next few months, through further court appearances and further negotiating, Greg and the prosecutor eventually agreed to resolve the case with the client pleading to just a misdemeanor version of Penal Code § 273.5(a) and the strike allegation under Penal Code § 245(a)(1), assault with a deadly weapon, was dismissed. Had our client been convicted of both charges as felonies, with a great bodily injury enhancement and the use of a weapon allegation, she faced a maximum of eight years in state prison.
The terms of the final resolution were that our client was placed on three years of informal, or summary probation, with an obligation to attend 52 batterers program classes, 26 anger management classes, perform 8 hours of community service, make a $500 contribution to a batterer's victim fund and pay $220 in court costs. This was a truly fortunate resolution for what began as a prison case. Our client was extremely happy.
For more information about domestic violence, please click on the following articles: