Felony Bench Warrant from 2003 Recalled, Client in Florida
In 2001, our client, while age 28 and living in Hollywood, had gotten in a fight with three police officers outside a nightclub. He had been high on drugs and injured all three officers. He was arrested and taken to jail. He posted bail and was released, but faced a felony criminal case in the then-named Criminal Courts Building (CCB) in downtown Los Angeles (the building changed its name to the Clara Shortridge Foltz downtown Los Angeles courthouse in 2002).
Over the next two years, with the help of a public defender representing him, he resolved the case in early 2004 with a plea to a single violation of Penal Code § 69 ("felony resisting arrest"), wherein the client was placed on three years of formal probation on the following conditions: 1) that he perform 120 days of Cal-Trans labor; 2) that he pay restitution to the victim in an amount to be determined at a restitution hearing; and 3) that he participate in a program of substance abuse counseling. The client, once released from jail and onto probation, moved to Florida and made no attempt to even contact probation.
When the client failed to appear in court a few months later for a progress hearing on his Cal-Trans labor, the judge issued a no bail felony bench warrant. Our client had not done one day of Cal-Trans before leaving for Florida. He did not pay any restitution to any police officer and he had done no drug treatment or counseling.
In 2020, he became subject to deportation proceedings back to his native Brazil. His immigration attorney advised him that due to his felony bench warrant in Los Angeles, he would most likely be deported. This attorney, in Miami, advised him to contact an attorney in Los Angeles to address the bench warrant.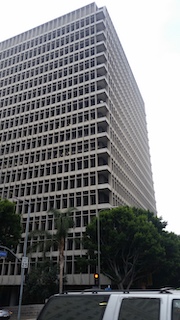 Clara Shortridge Foltz CCB
The client and his husband contacted Greg Hill and explained the situation. Greg stated that since the bench warrant was for a felony, it was most likely that the client needed to appear in person with Greg in court. This was even more so because the warrant was for no bail.
The general plan was to have the warrant recalled, admit the probation violation, request to be reinstated on probation, have probation transferred to Miami County (our client had already spoke to the Miami County probation office and they agreed to accept his transfer of supervision) and then complete 120 days of community labor there in Florida.
To have some credibility with the judge, Greg recommended that the client attend 52 narcotics anonymous meetings in Miami, which the client did in about three weeks.
Greg also advised that in some cases, with the judge's permission, one can appear under Penal Code § 977(a) with a signed waiver of one's personal appearance, but this is rarely allowed. Greg had persuaded a few judges to allow this, but mostly such attempts resulted in rejection.
Nonetheless, Greg said he could certainly try, especially because the client was HIV positive and his doctor advised him not to travel by airplane, in such an immune-compromised condition during Covid-19, which was raging at the time.
Greg then prepared a waiver of personal appearance form under Penal Code § 977(a), which the client signed, had notarized and attached a copy of his Florida driver's license.
Greg then, as a professional courtesy, notified the Los Angeles District Attorney's Office of our intention to appear on a specific date (to be arranged with the prosecutor and the Client) so that they may bring their file to court on that date, which may be in off-site storage at present.
Greg then appeared without the client, but with a notarized and signed 977(a) consent and waiver form, proof of our client having attended 52 narcotics anonymous meetings and a letter from the client's immunologist stating that our client was HIV positive and air travel was not advisable and unsafe.
To Greg's surprise, the judge accepted the 977(a) waiver and consent form, recalled the no bail warrant, reinstated our client on probation, vacated the 120 days of Cal-Trans, deeming it completed and terminated probation.
Our client was as happy as great was shocked. This result greatly helped our client with his pending immigration case and was a major windfall for him, as he had fully planned on performing 120 days of community labor in Miami.
We bring this bench warrant recall summary to the reader's attention with a big caveat: one should not expect such luck as we had. This is not a normal result.
For more information about recalling a bench warrant, please click on the following articles: