Felony Bench Warrant from 1990 Recalled, 977(b)(2), CCB
One day in 2021, our office received a phone call from a 65-year-old lady living in Oakland, California. She explained that she had received a phone call from a detective who told her there was a bench warrant for her and that she needed to report to the downtown Los Angeles courthouse (she was referring to the Clara Shortridge Foltz courthouse at 210 West Temple Street).
Greg asked what the warrant was for and the client explained that in 1988, she had purchased a Geo Metro when she was living in Los Angeles. Immediately after she bought it, her mom got ill and she left Los Angeles to live with her mom in Oakland. In 1988, her mom was 63 years old. She drove the car from Los Angeles to Oakland and then called the dealership, saying she could not afford the car anymore.
According to the client, the dealership told her to just take the car to a local Ford dealership and leave the car there. She did so the next day, well before the dealership even opened, leaving the car with the keys under the front floor mat. She said she did not even make her first monthly payment under the car loan, which she thought led to criminal charges.
Greg then asked the client for her name and date of birth and he said he would search for the case number and see what the charges were, which he expected to be perhaps one charge of grand theft auto.
The client did have one case under her names, but it involved three counts of perjury (Penal Code § 118, a felony), grand theft of a vehicle (Penal Code § 487h, a felony) and two counts of presenting a false financial statement (Penal Code § 532a(1), a felony). The case was filed in 1990 and our client failed to appear at the arraignment, leading to a bench warrant being issued.
Greg showed the client the docket report for the above charges and asked her what conduct led to such charges. The client explained that she really did not know, but believed all charges were related to her taking of the Geo Metro in 1988.
Greg then explained that the client needed to be present in court for the judge to agree to recall the bench warrant, as it was for a felony case.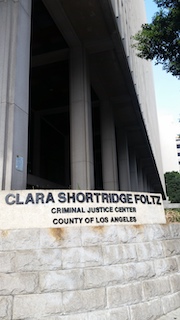 Clara Shortridge Foltz Criminal Courts Building Downtown LA
The client responded that she could not appear because she was still looking after her mother twenty-four hours per day, seven days every week. Her mother was now 95 years old and that her mom suffered from multiple medical problems. The client stated that she herself was handicapped and needed bilateral knee replacement, as well as a kidney transplant and that she could only walk with a walker.

Greg explained that it was academically or hypothetically possible for a judge to permit a defendant to appear through counsel, not personally, under Penal Code § 977(b)(2), with a signed and notarized consent and waiver of personal appearance. However, most judges require such a waiver to be entered into in court with defendant personally in court.
Nonetheless, Greg explained, he had been successful in having a few judges permit such an appearance without the defendant in a felony. Greg cautioned that he had attempted such an appearance, with a notarized waiver and consent form and even with a photocopy of the defendant's driver's license and been unsuccessful.
Despite the low chances of having the judge accept the waiver and consent form, the client stated she wanted Greg to try such an appearance for her, as she very much needed the bench warrant recalled. Greg agreed, preparing the wavier and consent form and then e-mailing it to the client to sign and have notarized. Greg suggested that the client also photocopy her driver's license to show her identity and give the judge more confidence that she was truly the once signing the waiver and consent form.
The client then did sign the consent and waiver form, in the presence of a notary and with a photocopy of her driver's license attached.
Greg then appeared in court and submitted the Penal Code § 977(b)(2) waiver and consent form for the judge's review. The judge then called the case and permitted Greg to appear for the client. Greg then requested that the judge set aside or quash the bench warrant, which he did.
The client was quite happy with this luck. The case then proceeded to a preliminary hearing setting conference.
For more information about bench warrant recall issues, please click on the following articles: