Expungement of 415 Infractions, 2 Clients, Redondo Beach
In June 2019, the City of Redondo Beach, with the sponsorship of many local restaurants and some national corporations, held a "Beach Life Festival" at the Redondo Beach saltwater lagoon just north of the Redondo Beach Pier. There was live music over a period of two or three days, a beer garden and local restaurants served up their distinct food. It was meant to strengthen community identity and draw more people to the area.
Our clients, age 20 and 22, were drawn to the festival to enjoy the music, food – and alcohol. Our client, age 22, showed his identification as being legal to purchase and consume alcohol and was given a wristband of a certain color. His girlfriend, under the legal age to enjoy alcohol, was given different color wristband.
As might be expected, our older client purchased three beers and walked back to where his girlfriend was waiting. He had two beers for himself and one for her, which he handed to her once he found her among the crowd.
Undercover police officers cited him for violation of Business & Professions Code § 25658(a), furnishing alcohol to a minor, and cited his girlfriend for violation of Business & Professions Code § 25662(a), possession of alcohol by a minor. Each were asked to sign a promise to appear in court in about three months and they did so.
The officers then left and cited several others for similar offenses, including public intoxication as the festival continued into the late afternoon.
Our clients called Greg Hill & Associates, concerned that the tickets they each received might result in jail time and a criminal history that would stigmatize each and hinder future employment.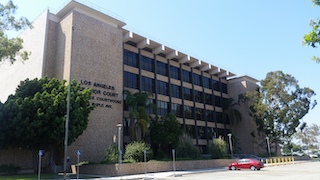 Torrance Courthouse
Greg listened to each client explain what had happened and then explained how he hoped to resolve the cases for infractions, not misdemeanors, because most employers only request background reports for convictions for felonies and misdemeanors. Most employers do not bother to care about a potential employee's record for an infraction, as parking tickets are infractions, unless perhaps the employer is seeking a bus driver or the employer is a taxi company (or Uber / Lyft).
Greg recommended that each client enroll in and take the online LEAD program (Licensee Education on Alcohol and Drugs) that is free and for restaurant operators who serve alcohol. Greg further recommended that each client attend five Alcoholics Anonymous (AA) classes prior to the arraignment and give Greg the AA sign-in sheet, as well as the LEAD "diploma," to show the Redondo Beach City Prosecutor assigned to the case at the arraignment.
The clients each did exactly what Greg recommended and at the arraignment, Greg showed the Redondo Beach City Prosecutor our clients' LEAD certificates and their AA sign-in sheets. Greg then asked that the prosecutor agree to amend the complaint to allege an infraction-level violation of Penal Code § 415(2) (making a loud noise to disturb the peace of others).
The prosecutor agreed, but added a requirement that each client perform 24 hours of approved community service and make a $100 donation to the Redondo Beach Serious Crime Reduction Fund.
Our clients agreed to and then performed the 24 hours of community service and each made the $100 donation.
For each client, the misdemeanor charge was dismissed and the cases were each resolved as violations of an infraction for violation of Penal Code § 415(2).
A year after this conviction, Greg then contacted each client about having the convictions expunged under Penal Code § 1203.4a(a), as one must wait for a year after the conviction to request expungement. Greg explained that expungement does not erase or delete the record of the case being filed, but it changes the last plea back to not guilty (from no contest) and then the judge dismisses the case. The more important benefit of expungement is that it gives the person the legal right to state he or she was never convicted of the crime, which is a big benefit for one seeking employment or a promotion.
Both clients agreed to move forward with expungement of their infractions and the Torrance Superior Court assigned to the cases granted the petitions for dismissal (expungement). Both clients were happy with this, as each was looking for work, each having been laid off due to COVID-19 downsizing by their prior employers.

For more information about expungement, please click on the following articles: