Excusal of Possible Juror in Death Penalty Case Proper
"Under state and federal constitutional principles, a criminal defendant has the right to be tried by an impartial jury." Cal. Const. art I, § 16; U.S. Const., 6th & 14th Amends.

In a Nutshell: A person is not disqualified from serving on a jury in a death penalty case if he or she personally disagrees with the death penalty as long as that person nonetheless agrees to follow the law, even if it requires that a death sentence be imposed.

In the context of jury selection in a capital case, decisions by the California Supreme Court and the United State Supreme Court have made it clear that a prospective juror's personal opposition to the death penalty is not a sufficient basis on which to remove the juror from jury service "so long as they clearly state that they are willing to temporarily set aside their own beliefs in deference to the rule of law." People v. Shultz (2020) 10 Cal.5th 623, 646.
Put another way, a juror who is opposed to the death penalty may still serve on a jury in a death penalty case if he or she unequivocally states that he or she will follow the law, i.e., the jury instructions, even if this means he or she votes for the death penalty. However, a juror who says in voir dire that he or she would allow his or her personal views (i.e., opposition to the death penalty) to block following the law may not serve on such a jury in such a case.

To put this in context, it is helpful to consider the case of Robert Walter Scully, which arose in Sonoma County Superior Court.
On March 29, 1995, at about 11:30 p.m., Sonoma County Deputy Frank Trejo advised dispatch that he was stopping a suspicious truck in the Santa Rosa Saddlery parking lot. Brenda Moore was driving the truck; Robert Walter Scully was in the passenger seat.
Six minutes later, dispatch communicated with another deputy to check on the status of Deputy Trejo. That deputy went to the Saddlery parking lot and found Deputy Trejo dead in front of his car, lying facedown on his stomach in a pool of blood. The deputy's gun belt, weapon, radio and flashlight were missing.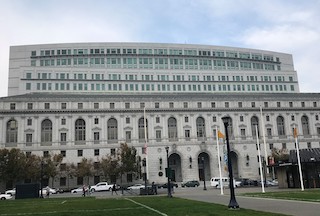 CA Supreme Court San Francisco
Several witnesses nearby standing outside the R & S Bar saw Mr. Scully raise a shotgun at Trejo, who raised his arms and kneeled on the ground before Scully shot Trejo in the face at close range. The witnesses then watched Scully and Moore return to the pickup truck and drive away.
Scully and Moore were arrested the following day. A jury convicted Scully of the first degree murder and robbery of Trejo (Penal Code §§ 187, 211). The jury found true the special circumstance allegations that Scully committed the murder for the purpose of avoiding arrest (Penal Code § 190.2(a)(5)) and while engaged in the commission of a robbery (Penal Code § 190.2(a)(17)), and that defendant intentionally killed a police officer engaged in the performance of his duties (Penal Code § 190.2(a)(7)). Scully was convicted of several other crimes, as well.
What is important for this article is that following a penalty trial, the jury returned a verdict of death.
On automatic appeal to the California Supreme Court, there were numerous issues argued by Scully. This article's scope will only focus on Scully's argument that the judge improperly granted the prosecution's challenge for cause of Prospective Juror No. 3727 based on her views on the death penalty.
During voir dire and on her juror questionnaire, this juror provided conflicting answers whether she would be able to consider the death penalty as punishment. In her jury questionnaire, she described her view on the death penalty as "moderately against" and expressed the view that "the death penalty does nothing to deter murder, and may be more expensive to the community in the long run, due to appeals and court costs." However, when asked by the judge if she would follow the jury instructions, even if that meant imposing the death penalty, she gave a rambling answer, but ultimately stated that she would decide the case in accordance with the court's instructions.

When asked a third time by the judge if she could vote in favor of death, she replied, "It would be a possibility. So, I guess that says yes. I mean, it would be a consideration. It would be a possibility."

The prosecution challenged Juror No. 3727 for cause and the judge concluded she was substantially impaired in whether she could impose the death penalty and dismissed her. The judge stated that he did not believe she was capable of fulfilling her duties as a juror. The judge emphasized that the juror never "unequivocally stated that she could consider the death penalty as a reasonable possibility."
The Supreme Court, in its review, affirmed the trial court, noting that during Hovey voir dire (Hovey v. Superior Court (1980) 28 Cal.3d 1, 80-81), this juror never stated that she could impose the death penalty when warranted, instead reiterating that it would be very difficult for her to do so. During Hovey questioning, she stated that she did not know if she would be able to set aside her personal beliefs about the death penalty and apply the law, rules and instructions as given to her by the court and later conveyed that she did not think she could do so.
Therefore, on this basis, the California Supreme Court affirmed the trial court's ruling to grant the prosecution's request to dismiss Juror No. 3727 for cause.
The citation for the California Supreme Court ruling discussed above is People v. Robert Walter Scully (2021) 11 Cal. 5th Cal. 542, 278 Rptr. 3d 792, 486 P. 3d 1029.
For more information about juror selection in death penalty cases, please click on the following articles: