Judge Engages in Illegal Factfinding in 1170.95 Petition
About This Article Briefly: In reviewing the record of conviction in an SB 1437 petition for resentencing under Penal Code § 1170.95, a judge may review an appellate court decision before setting an order to show cause hearing why relief should not be granted. Reviewing the appellate court decision, however, is illegal fact finding if, as in the case summarized herein, the judge rules on whether defendant is a major participant acting with reckless disregard in a crime.

In 1995, Valerie Rivers and Damone Dellano, Rivers' boyfriend, confronted Dwayne Moore about an incident two days earlier when Rivers, in labor, was waiting for her mom to take her to the hospital. As they argued, Dellano took out a gun and pointed it at Moore. When Dellano pointed the gun at Moore, Moore thought he was about to die and said to Rivers, "You gonna' let him do this to me?"
Dellano then put away the gun and went back into the apartment with Rivers. Moore remained stunned, scared and angry at Rivers.

Moore decided to get even with Rivers. He went to an apartment where Caleb James Harris, age 17, and Eric Bowden were present. Moore and Harris started to fill up beer bottles with gasoline and then put cut-up bedsheets into the bottles. Bowden later told detectives that Moore explained what he was doing by saying he was "going to get the dude back," referring to Dellano. Caleb Harris was helping Moore and encouraging Moore to "get him back."
Moore and Harris then left their apartment, carrying the Molotov cocktails.
Around 8:30 p.m., Rivers heard people gathered outside her apartment, talking. She recognized Moore's voice. She also heard another man say, "If the home girl is cool and she got kids, then I wouldn't fuck with her. But if she – she's not, then fuck it, whatever." Rivers then heard Moore say, "I'm not going out like that Meet me back here in 30 minutes."

Less than 30 minutes later, Rivers heard Moore yell her name and then there was a "ball of fire" coming through her bedroom window. The beer bottle hit her in the face and the room quickly was ablaze.

A witness nearby saw two young Black men outside Rivers' apartment when one lighted an object and threw it through the window of her apartment.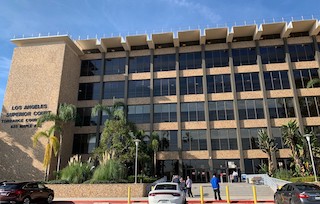 Torrance Courthouse
No one identified Harris as one of the two men outside Rivers' apartment, but Rivers identified Moore. The Hawthorne Fire Department arrived at the scene. Rivers suffered severe burns and was hospitalized for two months. Both her young children died in the blaze.
Moore and Harris were charged with first degree murder (Penal Code § 187(a)) of Rivers' two children, attempted murder of Rivers and arson (Penal Code § 451(a)) causing great bodily injury. The information also charged that the murders were caused by the use of a destructive device (Penal Code § 190.2(a)(6)), were committed during the commission or arson and constituted multiple murders (Penal Code § 190.2(a)(3)).
After two trials, Harris was found guilty of all charges except attempted murder (which requires the intent to kill) in the third trial in Torrance.

The trial court judge sentenced Harris to concurrent indeterminate terms of 25 years to life, plus 7 years for the aggravated arson. In explaining his sentence, the trial court judge said, "I think the jury found that defendant (Harris) did not intend the happening that did occur and I don't think it was proven that defendant actually threw one of them [the Molotov cocktails]."

In 2019, Harris petitioned for resentencing under Penal Code § 1170.95 under California's new felony murder rule. After all, it was a felony murder (murder committed during an arson), Harris was an aider and abettor, he was not the actual killer and he did not intend the killing, according to the sentencing judge. It appeared that he had been convicted under a natural and probable consequences theory.

The key to the petition for resentencing was not whether he was the actual killer or had the intent to kill. The key issue was whether he was a major participant who acted with reckless indifference to human life in the course of the underlying felony, the arson. If he was found to have been a major participant who acted with reckless indifference to human life, he was ineligible for resentencing under 1170.95. If he was not a major participant acting with reckless indifference, he was eligible for resentencing.
Harris' petition analyzed his role as a "major participant" with "reckless indifference to human life" under People v. Banks (2015) 61 Cal.4th 788 and People v. Clark (2016) 63 Cal.4th 522.
After receiving the People's opposition and Harris' reply, Judge Laura C. Ellison in Torrance denied Harris' petition for resentencing.

Harris then appealed to the Second Appellate District on three grounds, but this article will just address his argument that Judge Ellison engaged in improper fact finding without issuing an order to show cause and holding an evidentiary hearing.
The Second Appellate District, in reviewing this appeal, first held that it was proper for Judge Ellison to consider the earlier Second Appellate Court ruling affirming the underlying convictions. A court of appeal opinion, whether published or not, can be reviewed by a trial court as part of appellant's record of conviction. People v. Verdugo (2020) 44 Cal.App.5th 320, at 333.
However, to engage in the Banks and Clark analysis of being a major participant and acting with reckless indifference to human life, the facts of the underlying case must be evaluated and to do so, an order to show cause must be issued and there must be an evidentiary hearing. The judge cannot evaluate this herself or himself because some of the facts were disputed at trial and not clearly resolved by the jury's findings. Judge Ellison found Harris was a major participant who acted with reckless disregard for human life, denying the petition.
The appellate court acknowledged, however, that objectively speaking, firebombing an apartment of a family with two young children at 9:00 p.m. creates a high risk that someone will be killed and Harris' agreement to assist in such an act seems to be reckless disregard for human life, but Harris was 17 years old at the time and so a closer look under evidentiary standards was needed to resolve his awareness of the risk at the time.
As an aside, our office is very familiar with Judge Ellison and regard her to be a careful, deliberate and patient judge. The appellate court's finding of error seems a bit extreme under the facts of this case.
The citation for the Second Appellate District Court ruling discussed above is People v. Kaleb James Harris (2nd App. Dist., 2021) 60 Cal. App. 5th 939, 275 Cal. Rptr. 3d 206.

For more information about petitions for resenting issues, please click on the following articles: