Example of Aider & Abettor Denied 1437 (PC 1170.95) Relief
In the context of a petition for recall of a sentence under Penal Code § 1170.95, it is rather straight-forward to understand how someone who is the actual shooter or somehow otherwise actually killed another human being directly would be denied resentencing.

Brief Synopsis: An SB 1437 petition for recall and resentencing may be denied for an aider and abettor when the court finds that defendant stipulated to a factual basis for the plea based on the preliminary hearing transcript and the police report wherein the actual shooter described defendant as instructing him to shoot the victim, which showed he had the specific intent to kill the victim.

It is also clear that if a jury convicted someone under the now-obsolete natural and probable consequences murder doctrine, that person would be entitled to resentencing, or if the person was convicted under a felony murder theory, when that person had no idea that another person killed someone, but unknowingly helped the suspect leave the scene as the "get away" driver.
However, what is unclear is what circumstances lead to granting or denying such a motion for someone convicted as an aider and abettor. This is a "gray zone" that many criminal defense attorneys eagerly await judicial guidance on in reported decision tackling this issue. How much can an aider and abettor be involved, but still be resentenced, perhaps for manslaughter?

The following appellate court ruling, in People v. Anhtu Trung Nguyen (2020 DJDAR 9415), out of the Second Appellate District, based on a ruling from Compton Superior Court Judge John J. Lonergan, is a good example to keep in mind.
The factual basis is important to understand in appreciating why Judge Lonergan's summary denial of the 1170.95 petition was affirmed by the appellate court.
Mr. Nguyen was angry about some "dope that he got" from Charles Kim in late 2005. On November 26, 2005, Nguyen and codefendant Daniel Barry then met with Kim in the back seat of a car. Barry shot Kim, killing him. Witness and police statements indicated that Nguyen instructed and paid Barry to kill Kim.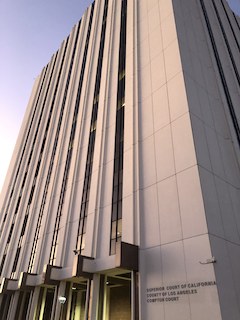 Compton Courthouse
Then, in 2006, Nguyen accepted a plea bargain to second-degree murder and attempted murder of the driver of the decedent. It was an open plea. Judge Lonergan then sentenced Nguyen to 18 years and 8 months to life. The sentence was composed of, for the second-degree murder, 15 years to life, plus one year for the firearm enhancement; and for the attempted murder two years, four months (one third the middle term, plus four months consecutive for the firearm enhancement).

What is important, we believe to understanding Judge Lonergan's ruling, is that Nguyen's attorney stipulated to a factual basis for the plea based on the preliminary hearing transcript and the police reports.

Anthony Baertschi, a man who drove Nguyen and Barry to the crime scene, testified at the preliminary hearing that about a week and a half before taking Nguyen to meet with Kim, Nguyen told Baertschi that he was furious at someone who sold him some bad dope and he had "to get him back." Nguyen then had Baertschi drive him and Barry to meet someone, but Nguyen did not explain who it was.

As Baertschi was driving to the location, Nguyen was on the phone with someone, trying to agree upon where to meet. Nguyen then told Baertschi to park near a particular street corner, which he did, and wait for Nguyen and Barry to return. Nguyen and Barry then walked over to a waiting car and got in. Baertschi then heard two shots and Barry, followed by Nguyen, ran back to Baertschi's truck. Nguyen and Barry got in and drove back home.
As they were driving away, Nguyen and Barry explained that Barry had used a ".45 Ruger," but it jammed after just two shots. Nguyen then told Baertschi that the victim was Charles Kim. Barry then explained that he was promised $2,000 cash for the shooting.
Thirteen years later, in 2019, Nguyen, representing himself, filed a form petition for resentencing under 1170.95.
The People filed a response, arguing that Nguyen could not make a prima facie showing for relief because (1) he was not convicted under a felony murder or natural and probable consequences theory of liability, and (2) the record of conviction demonstrated that Nguyen acted with malice aforethought as an aider and abettor.

Judge Lonergan issued a ruling, summarily denying Nguyen's petition, on several grounds, the most relevant here to this article being that the preliminary hearing transcript demonstrated that Nguyen aided and abetted the charged offenses.
Nguyen then appealed to the Second Appellate District, which seized upon a different reason to affirm Judge Lonergan (other than the reasons Judge Lonergan stated): defense counsel for Nguyen stipulated to a factual basis for the plea based on the preliminary hearing transcript and the police reports. This stipulation was key, the appellate court found.
We bring this summary to the reader's attention as somewhat of a cautionary tale. Defense counsel often stipulate to a factual basis for a plea without pausing to consider how this may be relevant later, often because defense counsel is so much more concerned with minimizing the punishment above all else. Indeed, the total number of years in prison is extremely important in plea negotiations, but sometimes, it leads to a myopia, preventing one from seeing other issues that could be important later, as this case exemplifies.
The citation for the Second Appellate District Court ruling discussed above is People v. Anhtu Trung Nguyen (2d App. Dist., 2020) 53 Cal. App. 5th 1154, 268 Cal. Rptr. 3d 306.

For more information about Senate Bill 1437 and Penal Code § 1170.95 issues, please click on the following articles: