El Monte, Drunk in Public Arrest (PC 647(f)), Case Not Filed
Our client, age 23, and her boyfriend, age 21, were returning from the Grove in West Los Angeles to Las Vegas. They each had consumed several glasses of alcohol (she wine, he vodka) with dinner. As they were driving back, they began to argue as they drove eastbound on the 10 Freeway. They were near El Monte.
In 50 Words or Less, What Happened?: Drunk female passenger, age 24, for public intoxication (Penal Code § 647(f)), El Monte Courthouse no file after Greg Hill sends letters and discusses case with District Attorney.

The argument became heated and a California Highway Patrol officer noticed the two arguing. The CHP officer then made a traffic stop, allegedly based on speeding.
When the officer spoke to the driver, our female client apologized for him, explaining that he was not fluent in English, so she would talk for him instead. Both she and her boyfriend were immigrants from China attending the University of Nevada at Las Vegas.
The officer called for backup, as he decided our client could pose a threat to the officer due to her outspoken, assertive nature. After all, the officer really wanted to speak to the driver and not our client.
A back up officer arrived and took the driver aside, who did register a blood alcohol content of 0.18% and was arrested. Our client then got out of the car, ignoring the officers' commands to stay inside for her safety, to watch the field sobriety tests being performed on her boyfriend.
Police officers instructed our client to return to her car, but she refused. She told police that she needed to translate the English to Chinese for her boyfriend. She cried hysterically, saying to police it was all her fault.
Police then physically detained our client and put her in a police car. This did not stop our client's yelling and crying. CHP officers then drove away from the DUI arrest location with our client, taking her to the West Covina police station.
The client was then arrested for public intoxication, a violation of Penal Code § 647(f). She was then held for several hours and released without bail for an arraignment six weeks later in the El Monte Courthouse.
The client then contacted Greg Hill, who discussed the case with her. Greg immediately recognized that the charge was most likely improper because the client had not obstructed a roadway, side walk or other passage way. She also was not passed out in a public place or unable to walk due to her intoxication. If anything, Greg commented that the case resembled disturbing the peace (Penal Code § 415) more than public intoxication.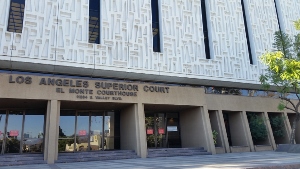 El Monte Superior Courthouse
Greg then wrote the El Monte District Attorney about the case and later called the office there to discuss the case. The prosecutor was appreciative of the legal issues and agreed to look into the situation further. Greg did not mention an alternate charge of disturbing the peace.
On the day of the arraignment, Greg then appeared at the El Monte Courthouse to find the District Attorney had decided not to file any case against our client, including even for disturbing the peace (Penal Code § 415).
For more information about the issues in this case summary, click on the following articles:
Fingerprint Records Must Be Destroyed If the Court Grants a Petition for Factual Innocence (Penal Code § 851.8)
Contact us.