El Monte, Assault with Deadly Weapon on Police Officers
Our client, now age 34, had served as a Navy Corpsman from 2005 to 2010, which included deployment with a Marine Corps scout sniper platoon in Iraq. While there, he experienced mortar attacks, sniper fire and roadside bombs. He treated many who were injured and he lost many of his colleagues there.
It was a very traumatic experience for a 19- to 24-year-old. He began to numb the anxiety and hyper vigilance that this caused by regularly consuming alcohol. Soon he was addicted to alcohol and was discharged from the Navy after several incidents of being intoxicated while on duty.
When our client left the Navy, he became an emergency medical technician (EMT), riding in ambulances with paramedics to help those in need of emergency medical care here in the Los Angeles area.
However, he remained traumatized by his experiences as a Navy Corpsman in Iraq and continued to turn to alcohol.
One spring day in 2020, he began his day off from work at 9:00 a.m. by buying a large bottle of vodka at the nearby liquor store and proceeding to consume over half of it rather quickly. This caused him to fall asleep, which our client enjoyed. The numbing effect of the alcohol was welcomed.
Next to our client and also sleeping was our client's 90-pound Rottweiler mix. The dog was our client's constant companion and while not a prescribed "emotional support" dog, the dog kept our client company when he was not working.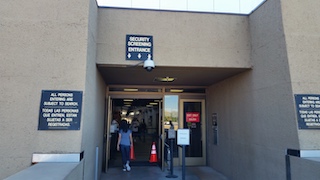 El Monte Courthouse
After about two hours of blissful napping, our client was awakened by his cell phone ringing. The landlord was calling to advise our client that "someone" wanted to talk to our client about his large dog. Still in an alcohol-induced stupor and barely awake, our client got up to walk down the stairs to talk to this person. Because our client was not fully awake, he forgot to put his dog on a leash and the dog ran down the stairs ahead of our client.
The dog then ran into the home's front yard, where two police officers stood behind an iron gate. The dog ran toward the officers, who believed our client had intentionally released the dog to attack them. One officer unholstered her pistol and shot a warning shot into the sky, which startled the dog and made him stop immediately. The dog could not have bitten the officers anyways with the gate separating the officers from the dog.
Our client heard the shot and then appeared. He told the officers that such a reaction was unnecessary and that guns should not be used so quickly. The officers did not appreciate our client lecturing them, so they arrested him on two felony charges of assaulting a police officer (Penal Code § 245(c)), which carries with it a minimum three-year state prison term. Our client protested the arrest, pointing out that the iron gate protected the officers and that he did not let his dog out to scare the officers.
The client's dog was also seized by animal control.
After our client was released from custody, he called Greg Hill & Associates and spoke with Greg. While the client was not in the Marine Corps, he was attached to a Marine scout sniper platoon, so he felt comfortable speaking with Greg, a former Marine (1987-1994). Greg also served as a forward air controller, so he was familiar with having a Navy corpsman attached to a small group of Marines, forward deployed.
The client explained the facts of his case and Greg immediately mentioned Military Diversion under Penal Code § 1001.80, although its provisions are limited to misdemeanor offenses.
Greg cautioned that because the alleged offenses were against police officers, the charges may remain as felonies, in which case mental health diversion under Penal Code § 1001.36 may be an option instead.
Greg encouraged the client to immediately start attending AA meetings and to attend a dog obedience training class online. The client did two such classes, one twelve-hour and one four-hour class. He also attended over 100 AA meetings during the next six months.
Greg then appeared with the client and discussed the case with the handling prosecutor, who gradually began to understand the case facts better and eventually did agree to allow our client to plea to a misdemeanor violation of Penal Code § 245(a)(1), allowing military diversion. This was only reached after almost a full year of plea bargaining and providing extensive mitigation materials.
As the reader may know, military diversion does not require the defendant to enter a no contest or guilty plea, which for our client was very important so he would not lose his EMT license, or even have it suspended. This way, our client could keep working while complying with the terms of military diversion, which included taking a further 16 class animal cruelty program, continued treatment at the Sepulveda VA and attending 26 more AA meetings. The term of diversion was six months, which the client successfully completed, keeping his job all along and getting treatment for alcohol abuse and PTSD that was overdue.
Lastly, it merits mention that the client did reunite with his dog after about six months at no cost to the client, which was remarkable.
For more information about assault and military diversion issues, please click on the following articles: