Judge Says Military Diversion Should Be Granted More Often
In our experience with filing motions for imposition of military diversion under Penal Code § 1001.80, judges are hesitant to find a service-related mental condition led to the commission of a crime. When a doctor writes a letter stating that our client used alcohol to self-medicate his mental condition and that such use led to the commission of a crime, many judges are reluctant to accept the doctor's opinion.
Summary in 40 Words or Less: The following Sixth Appellate District ruling states that military diversion under Penal Code § 1001.80 should be granted, it suggests more often, to help former military and current military personnel receipt treatment and avoid a misdemeanor record.

We think that this stems from an individual judge's fundamental opposition to military diversion in general. After all, military diversion truly is a good program for current active duty military personnel and those who are veterans, but who left the service with some form of mental illness or condition related to their service. The judge may also distrust a doctor's opinion as "too convenient" and perhaps even fabricated.
This is regrettable because judges really are not supposed to allow their personal opinions to overshadow their application of the law. The judge is paid a very comfortable salary because it is indeed difficult to apply the law, as if blindfolded like Lady Justice holding a scale.
This situation was recently epitomized in the Sixth Appellate District ruling in a DUI case versus United States Army Special Forces serviceman Andrew M. Wade. Wade was stationed at the Naval Postgraduate School in Monterey studying for a master's degree. He was a ten-year Army serviceman who had made multiple deployments overseas.
In June, 2017, he was driving his pickup truck northbound on Highway 101. According to police observing the truck, it "weaved within the lane in a serpentine manner traveling at a slow speed." When police activated their overhead lights to make a traffic stop, Wade came to a stop on an unsafe portion of the road with a narrow shoulder. He later submitted to a test of his blood alcohol content and it was found to be double the legal limit, or 0.16%. He was then arrested for DUI.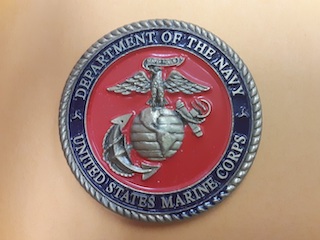 U.S.M.C. Globe Anchor Coin
The Monterey County District Attorney charged Wade with misdemeanor DUI and at the arraignment, Wade's attorney requested that Wade be placed in the pretrial diversion program for military servicemen or veterans available under Penal Code § 1001.80. Wade's attorney submitted a letter from Wade's doctor who stated he found Wade did suffer from post-traumatic stress disorder that he self-treated with periodic binge drinking that allowed him to talk about his military experiences "with his Special Forces buddies." He had no other criminal history.
To be placed in such a program, as the reader of this article may already know, defendant must show that (1) he or she is a current or former member of the U.S. military; and (2) that he or she may be suffering from sexual trauma, traumatic brain injury (TBI), post-traumatic stress disorder (PTSD), substance abuse or mental health problems as a result of his or her military service.
The judge in Monterey County Superior County denied military diversion for Wade, stating that DUI is an inherently dangerous crime and so the type of crime made Wade unqualified for pretrial diversion under 1001.80.
The prosecutor in the case made many arguments that apparently swayed the judge. The DA argued that Wade's high BAC made his DUI especially dangerous. The DA even stated that Wade refused to submit to a breath test, Wade had a prior DUI conviction, was on probation for a prior DUI and was involved in a collision and left the scene of the collision, all of which were not true.

Wade's attorney responded to the DA's arguments by pointing out the factual inaccuracies asserted by the prosecutor and disputing the judge's discretion to deny diversion based on a blood alcohol content. He said exercising judicial discretion based on this was contrary to the statutory intent, particularly since the legislature amended 1001.80 in 2017 to clarify that military diversion is available to misdemeanor charges of DUI or DUI causing injury (PC § 1001.80(l)).

The trial court judge apparently used a worksheet entitled "Superior Court of California, County of Monterey, Military Diversion Information Sheet" that distilled down seven "eligibility criteria" from 1001.80 and 29 "factors of con[s]ideration in granting or denying military diversion." Many of the 29 factors were felony sentencing guidelines from the California Rules of Court.
Wade's counsel then filed a writ of mandate for the trial court's denial to the superior court appellate division. The appellate division denied the appeal.
Wade's counsel then filed a writ of mandate to the Sixth Appellate District. The Sixth Appellate District found that the trial court judge abused its judicial discretion. The appellate court ruling criticized the lower court judge for considering the type of misdemeanor at issue. The goal of the statute is for the court to help military personnel "obtain specialized treatment for a service-related trauma or condition, with the goal for that individual to avoid the impediment of a misdemeanor record." The primary purpose of the statute is rehabilitative, "irrespective of the misdemeanor charged."
Finally, the appellate court criticized the trial court's use of the worksheet that listed 29 sentencing criteria used in felony sentencing, as they were meant to guide a judge in deciding whether to sentence a defendant in a felony to the low, mid or high term, not for diversion.
We certainly appreciate this ruling, as judges and prosecutors should follow the law and not consider or impose other standards that do not apply.
The citation for the Sixth Appellate District Court ruling discussed above is Andrew Wade v. Superior Court (6th App. Dist., 2019) 33 Cal.App.5th 694.
For more information about diversion issues, please click on the following articles:
Contact us.