El Monte, 94 MPH, 0.197% BAC, Plea to 3 Month DUI Program
Our client and his girlfriend were returning home to Las Vegas after returning some gifts to a store in Los Angeles. Before leaving Los Angeles, they had gone to a famous bar in the Grove.
As they were traveling eastbound on the 10 Freeway, they began arguing about finances and their relationship.
In 50 Words or Less: El Monte, client stopped while going 94 mph with 0.197% blood alcohol content (BAC), case resolved for 3-month DUI program (AB541) and minimum fines.
The argument became quite heated. They spotted a police officer on a motorcycle and slowly passed him, they believed. However, the CHP officer was able to observe the couple arguing, he claimed, and paced the client's BMV, measuring its speed at 94 miles per hour.
The CHP made a traffic stop and realized both our client and his girlfriend had been drinking. He asked our client to submit to a Preliminary Alcohol Screening (PAS) test at the scene on the roadside and our client's blood alcohol content (BAC) was measured at 0.197%, or almost 2.5 times the legal limit.
The CHP officer then placed our client under arrest, causing panic to his girlfriend. Both he and his girlfriend were from China and spoke very little English. They had no family in the United States and no friends in Southern California. This was therefore a very traumatic experience, as they had watched plenty of American movies wherein U.S. jails are portrayed as violent and dangerous places.
The client's BMV was towed and then impounded. Our client's girlfriend protested this, disobeying officer's requests to simply sit down. She repeatedly asked to drive it away herself. She was then arrested for public intoxication and placed in a jail cell as well.
The girlfriend's case was eventually rejected for filing after Greg wrote numerous letters to the El Monte authorities explaining the context of the police encounter and the reasons for her loud conduct.
Her boyfriend's case was not quite so easily dispensed with his speeding and his BAC. At the first court appearance, the prosecutor noted the very high speed and the high BAC, commenting that this was a serious case even though it was our client's first DUI.
Due to the high speed and high BAC, the initial offer was 60 days in county jail, a $500 fine plus penalties and assessments, a nine month alcohol awareness program (AB1353), the Hospital and Morgue (HAM) program, the Mothers Against Drunk Driving (MADD) Victim Impact Panel (VIP) and three years of summary probation.
This offer caused the client a near heart attack because he was extremely fearful of being in a U.S. jail at all, due to his poor English and concerns about being tortured by guards or beaten up by African Americans and Hispanic gang members, as was understood in China as the state of U.S. jails.
Greg also represented the client at his DMV hearing, where Greg had argued the poor credibility of the CHP report because of its failure to have an officer's certification for the PAS test and the officer's failure to sign the report. Moreover, the description of his pacing the car suggested that he only paced the vehicle for about ten to twelve seconds, which is far less than what the National Highway Traffic Safety Administration recommended as a minimum time for pacing.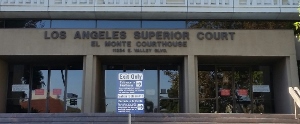 El Monte Superior Courthouse
Greg brought all this to the attention of the El Monte District Attorney who scoffed at the arguments about the CHP report's problems, but two appearances later, suddenly agreed to a no jail offer and a three month alcohol awareness program (AB541). Our client remained obligated to attend the MADD VIP and the HAM programs as well and the fine was lowered to $390 plus penalties and assessments or 138 hours of community service.
The client gladly accepted the deal, relieved to avoid jail and only have to take the three-month DUI program despite his high BAC. It was a very good resolution indeed.
For more information about the issues in this case summary, click on the following articles:
Watch our video about DUI by clicking here.
Contact us.