El Camino College Hit & Run, Client Age 17, Teen Court
Our client was seventeen years-old and nearly a straight A student. He had finished his junior year in high school and was soon to begin applying to Stanford, Berkeley and several Ivy League colleges. But for all his perfection in the classroom, he was not a perfect driver and he had poor judgment when speaking to the police.
He was taking summer school at El Camino College with his sister. Classes had ended for the day and they were heading home. Our client was driving and his sister was sitting in the back seat, looking down at her cell phone.
The Gist of This Summary: Client, age 17, allegedly hits a homeless person with his car as he is exiting the El Camino Community College parking lot. Client believes alleged victim was faking being hit to seek financial windfall, so client leaves. Case referred to Teen Court and not filed in court.

The two were exiting onto southbound Crenshaw Boulevard. Our client pulled toward the entrance to Crenshaw and came to a stop at the stop sign that was positioned at the exit point from the parking lot. As he did so, he was looking to his left, towards southbound traffic coming toward him on Crenshaw.
At the same time, he inched forward across the crosswalk and may have come in contact with a pedestrian. As he was still waiting for traffic, he heard a pounding on his car's right side and looked over toward the noise.
His sister immediately looked up from her cell phone and saw a woman, in no particular distress, motioning for the two to roll down their window to talk to her. Our client's sister, believing the pedestrian was a homeless person begging for money, told her brother to ignore her and continue onto Crenshaw Boulevard.
When traffic allowed him to enter Crenshaw, he did so and drove home.
The pedestrian then walked over to the El Camino Police Department and reported a hit and run, a violation of Vehicle Code § 20001.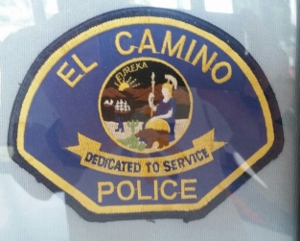 A few days later, as our client was leaving school, the same pedestrian, now driving, pulled her car behind our client's parked car, wedging it in so that our client could not leave. She apparently recognized the car and its license plate number. The alleged victim of the hit and run then called the El Camino police, who responded to the scene.
By the time the police arrived, our client's sister had come to the car. The sister acknowledged knowing there was some type of incident a few days later, but nothing more. Our client then arrived and, when asked by the police what happened, denied knowing anything.
Our client was then taken into custody and his parents had to come to the police station to have him released. He was assigned a court date at the Inglewood Juvenile Courthouse in about two months.
His parents immediately called Greg Hill & Associates and, with their son, had a face-to-face meeting with Greg Hill. They explained the facts of the case to Greg and, in response, Greg commented that he thought it was a civil case for negligence if anything, but not a criminal case because the Client was not aware of any injury to the pedestrian and thus, he had no awareness of a need to stop to exchange information. In other words, he violated no duty to stop because he did not know there was a need to stop.
Greg then explained how the Client most likely would be eligible for a program under pre-filing diversion because it appeared that the alleged victim was not seriously injured, if injured at all, and that he also might be referred to Teen Court, but that this was not frequently used. He further explained how a juvenile court proceeding was confidential and any resolution would be considered an adjudication, not a conviction.
Greg then obtained a declaration from the client's sister concerning what she perceived at the time and how she was not aware of any collision with a pedestrian.
Greg also fielded calls from the client's insurance carrier and then attended a meeting with the client and his parents at the Torrance Juvenile Probation Department, where the case was referred to Teen Court at Peninsula High School.
This was a good opportunity for the client to earn a no file and maybe even a not guilty verdict at Teen Court. His parents were pleased with the referral to Teen Court, which Greg would prepare him for prior to his hearing (Greg could not represent him at Teen Court).
For more information about juvenile case issues, please click on the following articles:
Contact us.