Effective Strategies for Successful Plea Bargaining
The basis for successful plea bargaining in any particular case starts the moment a client is arrested and an attorney is notified of the situation.

That attorney can, as we have done dozens of times, go to the police station to speak with the handling detective and ask if an "own recognizance" release is possible. Obviously, on some more serious crimes, including domestic violence, that may not be realistic. Nonetheless, having an attorney show up in the police station lobby to speak with law enforcement shows that the family of the suspect cares, as does the attorney. We believe this can lead to a more accurate police report because the officer is well aware that his or her report will be carefully and critically reviewed.
Summary in 50 Words or Less: Successful plea bargaining can be accomplished many ways, but it cannot take place without showing the prosecutor respect, care for the client and knowledge of the case facts and how the law applies to the facts. While such rather fundamental elements would seem easy to show, a deliberate, focussed effort in showing these things can lead to great results.

If the client's family can post bail to have the client released from custody, we recommend this because it permits the client to return to work (or get a job) and return to school (or enroll in college), two things that have good plea-bargaining value. A prosecutor and a judge will be more likely to consider a probationary sentence, with less challenging terms no less, if the prosecutor is aware that the client is working and/or going to school. If the client is supporting a family through his work, or simply developing a career – or going to college to foster a career, the prosecutor and / or judge will not want to end that by imposing a long jail or prison term as punishment.
Just talking about the client having a job or going to school is not enough. We recommend that the client present a photocopy of pay stubs (redacted to remove the pay amounts) and or a class schedule from the college to show the prosecutor.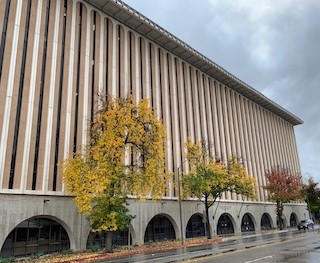 Pasadena Courthouse
Sometimes, the client is too old to be going to college, or is just not the academic type. Nonetheless, we recommend, depending on the alleged crime involved, that the client enroll in a class that is appropriate for the crime, i.e. Alcoholic Anonymous (AA), Narcotics Anonymous (NA), an alcohol awareness program for DUI, an approved batterer's program for domestic violence, a theft prevention class for shoplifting, an animal cruelty prevention class for animal cruelty cases, an arson awareness class for arson, a sexual compulsiveness class for a sex offense, or even a "thinking errors" class for other crimes.
If the client has a mental health issue, it is helpful for us in plea bargaining that the client seeks out and regularly attend some type of mental health treatment. It is easy for a prosecutor or judge to appreciate that if the client remains with the same doctor or psychiatrist / counselor, i.e. out of custody, he or she will return to mental health and possibly avoid future criminal conduct.

We even recommend that if the client has the financial means to do so, that the client enter a residential treatment facility (including for alcohol and/or drug abuse) to show his or her commitment to recovery, but also to help us plea bargain a resolution that permits the client to remain out of custody to receive follow up treatment / counseling if needed.
The role of the client's family and the family's concern for the client cannot be overstated. If possible, we like to show the prosecutor photographs of the client's family with him or her. We recommend not showing photographs that may expose a client's or his family member's tattoos or anything that could raise skepticism of the stability of the family. Photographs from weddings or church are ideal, as the client is usually dressed well in such photographs.

Letters of support from family members can also be powerful. Such letters are best, we think, if they are hand-written (so it does not look like an attorney prepared it), with a phone number and/or e-mail address from the author of the letter at the end so the prosecutor can call to verify that person indeed wrote such a letter. Such a letter can be addressed "To Whom it May Concern." It should be a half-page or so in length and must be, above all, truthful. If the family member can comment upon the client's kindness, compassion, respect for others, sense of ambition, loyalty and integrity, such a letter may have persuasive power to a prosecutor considering leniency.
We like to include a resume from the client, if he has one, as it can distill down the client's education and employment history into one or two pages and show that the client is achievement oriented. We like to include color copies of college diplomas, awards from work, and anything else that show the client is invested in his future, community and family, if applicable.
Lastly, we often include a short letter from the client himself or herself "To Whom it May Concern." The letter ought to be discussed with counsel prior to its preparation, as it must be careful not to admit something that would be compromising to the case or demonstrate poor judgment. It may be good, in such a letter, for the client to address his or her criminal history, if such exists. Often the letter simply expresses an understanding of why a certain law exists and how the defendant recognizes his conduct has imposed an enormous expense on law enforcement, the court system and his family, which he or she regrets, but stops short of admitting to any crime.
Depending upon what materials the client and his or her family can provide us, we then like to present the prosecutor the above materials as part of a Mitigation Packet that is accompanied by a Defense Position Letter that discusses the relevant legal and factual issues, what a jury may struggle with finding for the prosecution beyond a reasonable doubt, and seeks resolution of the case on specific terms. This letter can be presented early in the case or, more commonly, just before trial or the preliminary hearing, depending upon the type of case and its complexity.
For more information about plea bargaining, please click on the following articles:
Contact us.