Early Termination of Probation, Expungement, DUI, Compton
In early January 2019, our client, then 22 years old, entered into a no contest plea bargain to a conviction for violating Vehicle Code § 23152(b), also known as driving under the influence of alcohol with a blood alcohol content of 0.08% or higher ("DUI").
The case arose on a Saturday evening more than six months earlier when the CHP observed him speeding on the northbound 110 Freeway onto the eastbound 91 Freeway. His blood alcohol content (BAC) was 0.09% and 0.10% at the station. He had no passengers. There was no car accident. This was a first-time DUI.
A criminal complaint was later filed against him and resolved by our office. Count one, an allegation that he violated Vehicle Code § 23152(a), driving under the influence of alcohol, was dismissed. The client then entered a no contest plea to count two, the allegation that he operated a motor vehicle with a BAC of 0.08% or higher by weight (§ 23152(b)).
The terms of the plea bargain were that our client was sentenced to three years of summary, or informal, probation on the following terms and conditions: payment of a court fine of $390, plus penalties and assessments, enrollment in and completion of the three-month outpatient alcohol awareness program (also called the AB541 program), and attendance at the Mothers Against Drunk Drivers (MADD) Victim Impact Program.
Our client complied with all terms and conditions of probation, less the passage of three years of informal probation. Our office, at the 18-month mark of the client's probation, then filed a motion for and the judge assigned to the case graciously ended his probation early in early September 2020.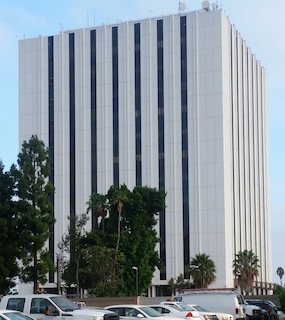 Compton Courthouse
But having a conviction for DUI on his record still meant our client was not authorized to use the company's boats and trucks at his current job whose identity will not be disclosed to protect our client.
He is a dock installer and works in different cities (Long Beach, Ventura, Marina Del Rey, Dana Point, Oakland, Alameda, and Sausalito) and has been employed with the same company for two years.
In addition, our client had recently completed a real estate course to obtain a real estate license. However, while having this conviction, he was barred from taking the state licensing exam. In other words, he could not even make it to the starting line with this DUI conviction.
Before filing a petition for dismissal of the complaint ("expungement") under Penal Code § 1203.4, however, Greg explained to the client how expungement differed from sealing the complaint. Expungement did not erase, delete or remove the record of the complaint having been filed, as did sealing (which our client was not eligible for because he was convicted). However, expungement did change the last plea in the case from a no contest plea back to not guilty and the complaint was dismissed. A grant of relief under 1203.4 also allowed our client to legally answer "no" to any employment question if he had been convicted of DUI in this case, unless he was applying to operate a state lottery, run for public office or apply for a governmental job or license (i.e., doctor, lawyer, CPA, dentist, etc.).
Once the client understood that expungement did not erase the case, and remained interested in moving forward, our office prepare, filed and served the petition to set aside his plea and dismiss the Complaint pursuant to Penal Code § 1203.4(a) so that our client could continue to build his career and reputation and not continue to be punished for this mistake for many years in the future.
Our office then prepared the petition for dismissal, attaching to it a short declaration from our client explaining his limitations at work imposed by the conviction, as well as his plans to take the real estate salesman exam which were put on hold with this conviction remaining a scar on his record.
We then filed the motion and paid the $120 filing fee for Los Angeles County. The judge granted the petition, which made our client quite happy.
For more information about expungement, please click on the following articles: