Early Termination and Expungement, Prostitution, Torrance
Our client was living in Torrance. He was 43 and had two young daughters. He heard on the radio or read in the newspaper that one could sign up for text alerts about crimes in Torrance, so he did, as he was curious about what was happening where he lived.

One day, he received a text alert that the Torrance Police would be conducting a prostitution sting in Torrance. This sparked his curiosity. What happens in such a sting? What do undercover police officers look like? What do the decoys look like?

So, he decided to go to the sting and so he searched online for the advertisement for sexual services in Torrance. He found it at eroticmonkey.com and responded, thinking it was the sting being set up by the Torrance police. The "prostitute" named JC Bae said she only wanted men who were serious about a meeting with her and asked our client to text her a photograph of the money he had.
Our client found an online stock photo of a few hundred dollars laying on a table and sent it to her. She then gave him the address of the Extended Stay hotel on Carson Street in Torrance and told our client to meet him there. This hotel is in Torrance, west of Hawthorne Boulevard, behind the Union Bank Towers.
Our client drove there and looked around to see if there were police vans or undercover officers milling about. He then walked into the hotel, curious to see people involved. He saw no one, so he made his stay at the Extended Stay short and walked back to his car to leave.
As it turned out, he was being monitored closely and two plain clothes police officers stopped him as he got into his car to leave. The officers asked him if he had come to the hotel looking for a date with a woman who advertised herself online as JC Bae.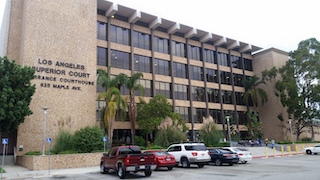 Torrance Courthouse
Our client admitted this and quickly tried to explain how he just wanted to see a sting operation and had no intention of having sex with JC Bae. The officers then asked him why he showed several hundred-dollar bills to her via text. Our client explained that this was just a stock photo he cut and pasted to send to her so he could get the address of the hotel.
Officers did not believe our client's explanation of why he was there and arrested him on charges of solicitation of prostitution, Penal Code § 647(b). While in custody, he further tried to explain to officers that because of his diabetes, he needed Cialis and Prozac to have an erection and he had none in his system. He demanded a blood test to show that neither of these substances were in his system.
Officers did not believe his story about not being physically ready for sex, and booked him, only to release him on his own recognizance with a promise to appear in the Torrance Courthouse in about two months.
Immediately after being released, the client called Greg Hill, who directed the client to a laboratory to get a blood sample taken. This was not easy, as such laboratories were not open on Saturdays, when the client was released, and the client had to drive around to about ten such labs before finally finding one that took a blood sample from him.
Greg further arranged for the client to submit to a polygraph exam, which the client did, and in it he stated under a polygraph that he had no intention of engaging in sex with a prostitute when he went to the Extended Stay hotel in Torrance.
Greg also filed a Motion for Mental Health Diversion in court, seeking to show a nexus between our client's anxiety and neurotic disorder and the crime, but the judge denied the motion, almost laughing at it.
Sadly, our client then had no option but trial or a plea bargain and he chose the plea bargain, agreeing to 36 months of informal probation, with an obligation to attend 52 sexual compulsiveness classes, stay away from the Extended Stay hotel and other obligations.
After 17 months of such probation, Greg contacted the client and asked him if he would like to ask the judge to end his probation early, as he had completed about half so far. The client indicated he did want to request this, so Greg prepared a Motion for Early Termination of Probation, which the judge granted.
Greg then prepared a petition for dismissal of the case (expungement), which the judge also granted.

For more information about early termination of probation and expungement, please click on the following articles: