Early End to Probation, AB 1950 on Felony Evading & DUI
In mid-2018, our client, then age 27, went out for drinks with friends in Manhattan Beach. A few drinks turned into many drinks and our client blacked out.
While blacked out, he got into his car to drive home to Downey. To get there, he drove eastbound on Manhattan Beach Boulevard to Sepulveda and then turned left to head northbound on Sepulveda to the 105 Freeway.
While northbound on Sepulveda, our client apparently caught the attention of a police officer, who followed our client for a while before deciding to make a traffic stop. When the police officers turned on their overhead blue and pink lights to signal to our client to pull over, he sped up instead of pulling over. In his small Nissan, he accelerated up to over 100 miles per hour.
As his speed increased, with officers now in pursuit, he ran several red lights, continuing northbound toward the 105 Freeway. He then entered the El Segundo area, still speeding. Finally, as the client turned right off Sepulveda to Imperial Highway, the officer conducted a PIT (pursuit intervention technique) maneuver, colliding with the rear of our client's car to cause it to spin out, bringing our client's car to a stop.

The client was then arrested, surprised at all the commotion of what was happening. He then fell asleep in the police car on the way to the police station. His blood alcohol content (BAC) at the station was 0.23%. After giving his breath sample at the station, he again fell asleep.
After being released, he retained Greg Hill & Associates, explaining what others had told him took place. He explained that he had blacked out throughout the event.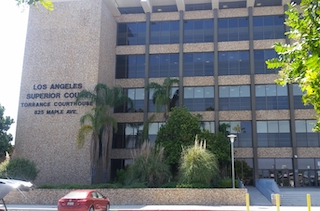 Torrance Courthouse
Greg Hill appeared with the client in the Torrance Court, as our client faced one charge of felony evading arrest and one count of misdemeanor DUI, his first DUI. The video of our client being chased and then arrested, as well as then falling asleep in the police car was not something we ever wanted a jury to see.
After several months of negotiating, the case was resolved with a rather harsh sentence: 365 days in county jail, composed of no probation on the DUI and three years of formal probation on the Vehicle Code § 2800.2 evading arrest charge. Our client also had to pay a $390 fine, plus penalties and assessments, enroll in and complete the AB 762 six-month outpatient DUI course and attend the Mothers Against Drunk Driving (MADD) victim impact panel, as well as the Hospital and Morgue (HAM) program.
Our client served only about three days of the 365 days county jail sentence before being released. He had finished the AB762 program even before entering into the plea, so he only had to pay the court fines and fees and attend the MADD victim impact panel and HAM program.
The client completed all such tasks within two months of his plea. He was then on three years of formal probation.
At the halfway mark of his probation, in October 2020, Greg contacted the client, who was a pharmacy technician, and asked him if he wanted to ask the judge to end his probation early. The client stated he did want this because his wife had lost her job (due to Covid-19 staffing cutbacks) and the client's job had changed his status to part time because of his probationary status. So if he could end his probation, he would return to full-time and earn more, as well as perhaps even change his employer.
Greg Hill & Associates then started work on a motion for early termination of probation and filed it in November 2020. A hearing date on the motion was set in February 2021.
In the meantime, Assembly Bill (AB) 1950 became effective on January 1, 2021. This new law changed the maximum probation term for a misdemeanor to one year and a felony to two years, with certain exceptions (notably DUI, domestic violence and many sex offenses).
The client's motion for modification of his probation, which was only for his formal probation related to his evading arrest charge, thus really became a motion for application of AB 1950, as it was found to be retroactive in effect.
The Torrance Superior Court judge, in ruling on the motion, granted the motion, ending our client's probation and making him eligible for expungement of both the DUI conviction and his felony evading arrest conviction. The client was happy with this result.
For more information about Assembly Bill 1950, early termination of probation and expungement, please click on the following articles: