DUI, Glendale, Client Driving 95 MPH on 134 Freeway
About This Article Briefly: Client had a 0.16% BAC and was observed traveling at 95 m.p.h. Case resolved at Glendale courthouse for minimum DUI terms, except a $450 fine, not a $390 fine.

Our client, age 27, had enjoyed an evening at Dave & Busters in Arcadia with friends. She had consumed quite a few beers, but felt safe to drive home. She had no criminal history except parking tickets. She had a good, solid job. It was about 11:00 p.m. on a Saturday night.
Our client lived in Van Nuys, so it was about 30 miles to drive from Arcadia home. As she was passing through Glendale, a California Highway Patrol (CHP) officer allegedly observed our client traveling at a "high rate of speed" and attempted to pace her. However, as his speed passed through 95 miles per hour, he was not closing in our client until she suddenly put on her brakes and allegedly tailgated another driver.
Once our client put on her brakes, the CHP officer was able to "catch up" to our client and then pull her over for the speeding that he had observed earlier. When he came into contact with our client, he claimed, he "immediately detected the odor of an alcoholic beverage" (words which we see written in exactly the same way in dozens of reports). He then asked our client for her driver's license, vehicle registration and proof of insurance. He then took the documents back to his vehicle to verify with dispatch that our client was not wanted on a warrant of any sort and the vehicle was not stolen.
After he returned with the client's documents and returned them to her, he asked her to step out of the vehicle. When she stepped out of the vehicle, the CHP officer allegedly observed an "unsteady gait" and asked her to perform some field sobriety tests, which even if one is a sober Olympic gymnast, the CHP would find one fails. Our client then submitted to a roadside breath alcohol test through a preliminary alcohol screening (PAS) device and her breath sample was measured at 0.165% and 0.163% blood alcohol content (BAC). Our client was then arrested.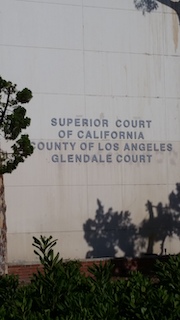 Glendale Courthouse
The client spent about six hours at the Glendale Police Station. She submitted to a further breath alcohol test at the station, registering the same BAC. She was then just asked to wait before being released with a promise to appear in the Glendale Superior Court about three months later.

She then spoke with a friend who had worked with our office previously and highly recommended us, so she called up Greg Hill & Associates.
She first discussed her case with Greg Hill, who listened to the client describe the facts of the case. The client knew that her speed was near 95 miles per hour, which caused Greg to comment that if the CHP officer had measured her speed at over 95 miles per hour accurately through pacing, the prosecution could allege a violation of Vehicle Code § 23582. Greg explained that this sentencing enhancement applies when one is DUI and 30 miles per hour or more above the posted speed limit, resulting in a minimum of sixty days in county jail in addition to any other punishment that applied.
Greg otherwise explained that the mobile video audio recording system (MVARS) tape, also called the "Dash Cam," would be something to watch to see how dangerous her driving seemed to be.
Because of the high speed and the client's relatively high BAC (double the legal limit), Greg suggested that the client try to enroll in an approved alcohol awareness program as a volunteer. She could complete a portion of the program before the arraignment and Greg could then take documentation of this to the arraignment to start plea negotiations in a positive direction, away from the nine-month alcohol awareness program the prosecution probably would want with the BAC above 0.15%.
Greg then appeared at the arraignment and discussed the case with the prosecutor while both looked through the complaint and the CHP report. Greg was greatly relieved to see that the prosecution had not alleged the Vehicle Code § 23582 speed enhancement, however, the CHP did report that our client's speed was near 95 miles per hour.

The excessive speed caused the prosecutor to comment that "your client was really drunk – look how fast she was going." Greg responded that actually, speeding is not one of the top 30 cues for DUI as determined in multiple studies by the National Highway Traffic Safety Administration, which kind of quieted the prosecutor. She then stated that her offer would include a six-month DUI class, $500 fine for the speeding, plus attendance at the Mothers Against Drunk Driving (MADD) victim impact panel.
Greg then suggested that since the client had already started the three-month alcohol awareness program (AB 541), that the case could be resolved at the next appearance for three years of informal probation, a $390 fine plus penalties and assessments and the AB541 program.
The prosecutor agreed, however, she asked that the fine be $450, plus penalties and assessments.
Greg then discussed the People's offer with the client, who agreed to this, especially since her actual fine would really be just $200, plus penalties and assessments because she had two days of credit for the time in custody before midnight and after midnight (considered two days). She was very happy with the resolution.
For more information about the issues in this DUI summary, please click on the following articles: