Duenas Challenge to Fines Is Eighth Amendment Issue?
People v. Duenas (2019) 30 Ca.App.5th 1157 held that it was a violation of Constitutional due process rights and equal protection rights for a judge to impose certain court fines and fees without finding first that defendant had the ability to pay such fines and fees.
The Reader's Digest Version: In an interesting twist on Duenas, the Firth Appellate District ruled Duenas was incorrect on due process grounds, but still legally correct on Eighth Amendment cruel and unusual punishment / excessive fines grounds if fines are "grossly disproportionate to the gravity of defendant's offense."

The case facts of the Duenas case involved an impoverished defendant who had been repeatedly convicted of driving on a suspended license. She lacked the financial means to pay the fee imposed to clear her record to obtain a valid driver's license, which if obtained, would permit her to find employment and work her way out of poverty. The fines and fees imposed created a barrier to her escaping her indigence. The court then determined that she lacked the ability to pay the fees and waived them, finding it was unconstitutional to use the criminal process to collect such fees when she could not pay them.
As might be expected, the Duenas opinion immediately spawned appeals to apply Duenas to reduce fees in other cases, but on facts that may not have been as strong as in Duenas. This legal phenomenon is expected as the articles on this website have described, for example, in judicial struggle to define shoplifting (the new Penal Code § 459.5) under Proposition 47 and what crimes fall under grand theft as defined under Prop 47 (the new Penal Code § 490.2).
The case of People v. Luis Arrellanes Aviles (2019 DJDAR 8943) was one such case seeking to apply Duenas in ways the Duenas court probably could never have imagined.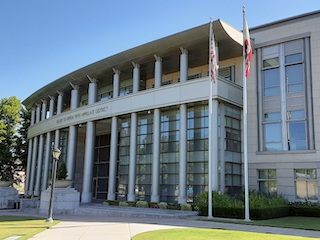 Fifth District Court of Appeal Fresno
Aviles, after all, was not an indigent person earnestly trying to make a living, but struggling on a treadmill of repeated citations for driving on a suspended license and informal (summary) probation. Aviles was a charged and convicted in Tulare County of two counts of attempted premeditated murder of two police officers (Penal Code §§ 664/187(a)) with firearm enhancements and possession of a firearm by a felon. He was sentenced to an aggregate term of 80-years-to-life in state prison, plus a consecutive term of two years for his plea in a separate case for assault with a deadly weapon, a cutting instrument, by means of force likely to produce great bodily injury.
The trial court judge, Kathryn T. Montejano, then imposed the maximum statutory restitution fine of $10,000, imposed and stayed a parole revocation fine of $10,000, imposed a court operations fee of $120 (under Penal Code § 1465.8, it is $40 on each conviction) and the court facilities funding assessment of $90 (under Government Code § 70373).
On the consecutive term of two years for assault with a deadly weapon, the judge imposed a $600 restitution fine, imposed and stayed a parole revocation fine of $600, and imposed a $40 court operations fine and a $30 court facilities funding assessment.
Interestingly, when the public defender requested reimbursement of $50,000 for attorney fees, the judge denied the request because "in light of the life sentence that defendant has been sentenced to, I'm gonna [sic] find no ability [to pay]."
Aviles challenged his conviction and sentence on numerous grounds, but this article will only summarize the Fifth Appellate District's response to Aviles' argument that the trial court violated his constitutional rights to due process and equal protection by ordering him to pay certain fines, fees and assessments without first finding he had the ability to pay such amounts.
In evaluating Aviles' claim, the Fifth Appellate District ruled that Duenas was wrongly decided on due process grounds, but should be nonetheless valid under Eighth Amendment (to the U.S. Constitution) grounds as whether such fines, fees and assessments are "grossly disproportional to the gravity of defendant's offense" and thus "excessive." United States v. Bajakajian (1998) 524 U.S. 321, 334, superseded on other grounds in U.S. v. Jose (1st Cir. P.R. 2007) 499 F.3d 105, 110.
The Fifth Appellate District, in other words, found that Duenas was wrongly decided. It held that it agreed with Justice Benke's concurring opinion in People v. Gutierrez (2019) 35 Cal.App.5th 1207 that Duenas's analysis is "fundamentally flawed in that general 'fairness' grounds of due process and/or equal protection principles do not afford a defendant a preassessment ability-to-pay hearing before a trial court imposes fines and fees upon him or her."
Justice Benke harshly criticized the Duenas ruling by noting it added a present ability to pay requirement that the statutes (Penal Code §§ 1202.4 and 1465.8) did not include.
Instead, the challenge to fines and fees should be based upon the Eighth Amendment based on the prohibition against "excessive fines" as recently applied in Timbs v. Indiana (2019) ___ U.S. ____, 139 S. Ct. 682 (involving the State of Indiana seizing Timbs' Range Rover on a possession of drugs case).
The California Supreme Court summarized the factors in Bajakajian to determine if a fine is excessive in violation of the Eighth Amendment: "(1) the defendant's culpability; (2) the relationship between the harm and the penalty; (3) the penalties imposed in similar statutes; and (4) the defendant's ability to pay." People ex rel. Lockyer v. R.J. Reynolds Tobacco Co. (2005) 37 Cal.4th 707, at 728.
The citation for the Fifth Appellate District Court ruling discussed above is People v. Luis Arrellanes Aviles (5th App. Dist., 2019) 39 Cal.App.5th 1055.

For more information about imposition of fines and fees, please click on the following articles:
Contact us.