Before Imposing Fines and Fees, What Must Judge Do?
In a Nutshell: After the Duenas decision, a judge is obligated to inquire into defendant's ability to pay before imposing court fees or fines and in the following case summarized below, that was overlooked, which the Sixth Appellate District found fault with. The appellate court said the court could also consider defendant's ability to earn money while in prison, his mental health status and receipt of government benefits.

In February, 2017, San Jose police officers arrested John Alves Santos after receiving a report of a stolen vehicle. During a pat down search of Santos, police found a baggie of methamphetamine and burglary tools, including fuses, numerous screwdrivers, wire cutters, vice grips and keys. The stolen car was also located nearby. Santos admitted to driving it without consent from the owner.
The Santa Clara District Attorney's office charged Santos with vehicle theft with a prior conviction (Vehicle Code § 10851(a), Penal Code § 666.5), misdemeanor possession of a controlled substance, methamphetamine (Health & Safety Code § 11377(a)), misdemeanor possession of burglary tools (Penal Code § 466) and receiving a stolen vehicle with a prior conviction (Penal Code § 496, Penal Code § 666.5). The complaint also alleged one prison prior (Penal Code § 667.5(b)).
Santos pleaded no contest to all four counts and admitted the prison prior. He signed and initialed a plea form which provided for a tentative indicated sentence in the range of probation to a maximum of three years in state prison. The form was modified to which Santos signed acknowledgment of a statement that said, "I do not contest my ability to pay these fines and fees and I have discussed these fines and fees with my attorney."

Santos was then sentenced to two years in state prison. The judge struck the prison prior sentence enhancement and ordered that Santos received 452 days credit toward the two-year sentence.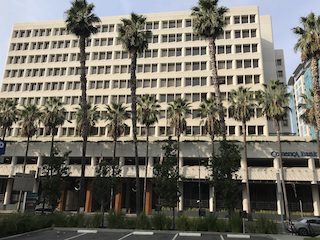 Sixth District Court of Appeal San Jose
At sentencing, counsel for Santos asked the judge to "run any fines and fees concurrent to the time it's going to impose" because Santos "is indigent" and probation had recommended quite a large fine of $1,800 in restitution. The trial court judge instead imposed a restitution fine of $300, a $4 emergency medical air transportation fine, an $80 court operations assessment, a $60 criminal conviction assessment and a $129.85 criminal justice administration fee. The court waived fee in connection with counts 2 and 3. Santos did not object to the imposition of fees and fines.
However, he did file an appeal to the Sixth Appellate District in Santa Clara to challenge such fines and fees, arguing that under the reasoning articulated in People v. Duenas (2019) 30 Cal.App.5th 1157, the trial court judge (Eric S. Geffon) should not have imposed the $80 court operations assessment and the $60 criminal conviction assessment without first determining Santos' ability to pay since the record reflects he was indigent at the time of sentencing. Santos further argued (and the People agreed) that he did not forfeit the issue by failing to object at the time of sentencing.
The Sixth Appellate District agreed that the record in the case established that Santos was indigent at the time of sentencing. It also noted that according to the probation report, Santos was homeless and unable to sustain employment or find housing.
However, it declined to find an inability to pay and instead remanded the matter to the trial court so that Santos can request a hearing and present evidence demonstrating his contended inability to pay the assessments.
The Sixth Appellate District then offered two comments that it hoped would be helpful on remand. It emphasized first that it is defendant's burden to demonstrate an inability to pay, not the prosecution's burden to show the defendant can pay, as the Duenas opinion might be read to suggest. This burden on defendant "is consistent with the Castellano court's interpretation of Duenas as requiring a defendant to 'contest in the trial court his or her ability to pay the fines, fees and assessments to be imposed and at a hearing present evidence of his or her inability to pay the amounts contemplated by the trial court." People v. Castellano (2019) 33 Cal.App.5th 485, at 490.
Second, the trial court may consider, if applicable, defendant's ability to earn wages such as while serving his or her prison sentence. People v. Kopp (2019) ___ Cal. App. 5th ___ [2019 Cal.App. Lexis 698 at 77]; accord Castellano, supra, 33 Cal.App.5th at 490 (factors may include potential prison pay during the period to be served by defendant). The court may also consider defendant's housing status, mental illness or disability, receipt of government benefits and his or her realistic ability to obtain employment. Castellano, supra.
The citation for the Sixth Appellate District Court ruling discussed above is People v. John Alves Santos (6th App. Dist., 2019) 38 Cal.App.5th 923.

For more information about criminal fines and fees, please click on the following articles:
Contact us.