Downtown Los Angeles Prostitution Sting, No Case Filed
Our client, age 50, had no criminal history whatsoever. Not even a parking ticket or a traffic ticket.
He was in Los Angeles for business and lost in the downtown Los Angeles area. It was about 7:30 p.m. and dark. He was trying to find a restaurant and parking nearby for the restaurant was difficult to find. He did not want to use valet service due to the expense, as he thought his employer would frown upon this expense.
Condensed Version of This Case: Client, not from Los Angeles, is lost in downtown Los Angeles and so he pulls up to ask a scantily-clad woman (a police decoy in an LAPD sting operation) for directions to a parking lot. She asks him how much money he has and he answers. Police observe this and detain him. Greg writes Los Angeles City Attorney's case about the mistake by the police and no case was filed.

As he was driving around, trying to find parking, and becoming more and more frustrated, he neared the corner of Main Street and 7th Street, which is three blocks east of Pershing Square. After dark, it is generally understood by locals to Downtown Los Angeles that travelling east of Pershing Square is a visit into a dangerous area. Our client, being from Chicago, did not know this.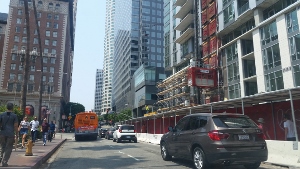 Downtown Los Angeles
At the corner of 7th and Main Street, he saw a scantily clad woman standing on the street corner. Being that he was in Los Angeles, he thought this was normal for a show-biz town, so he pulled up alongside her and asked her for the nearest parking lot. She asked him, in response, "how much you got?" Our client replied, "Forty dollars" and before he could even pull forward, a black and white police cruiser with overhead lights flashing pulled up behind him.
Our client did not know that the woman was an undercover police officer acting as a decoy to make such arrests. She was wearing a radio and apparently, all the cops on the receiving end of her radio could hear was our client offering $40 to her. They never realized that his statement was part of a conversation about parking.
The client was confused by the commotion and asked what was happening. The police refused to tell him what he was being detained for and simply handcuffed him and moved his car into a parking lot about one block away. Our client was loaded into a police van in the same parking lot and advised that he was being detained for solicitation of prostitution. He was so scared and overwhelmed by the situation, worrying also what his waiting dinner guests were thinking. However, he managed to tell the police that his comment about forty dollars was about parking money.
The police responded, "well, you can tell that to the judge."
The client was then asked to sign a promise to appear in court in about two months, which he did (and then he did find his dinner guests, albeit a bit late).
The client then returned to Chicago and called Greg Hill & Associates about his ticket, worried that it was a misdemeanor and that he might have to register as a sex offender. He described what happened and stated that he wanted an attorney with him when he appeared in court.
Greg immediately explained that the client did not need to personally appear if he retained an attorney, as Greg could appear for him on his behalf under Penal Code section 977(a). This eased the client's stress immeasurably, as he was dreading coming back out to Los Angeles.
Greg then explained how such cases were usually handled, but told him that he might have to come out to California to attend a prostitution diversion program (PDP) here. Greg explained how in a prior case, his client from outside California had attended a prostitution prevention class and the judge in Los Angeles had accepted this as meeting the California court's requirements.
So the client immediately found a Chicago-area prostitution prevention course, enrolled and completed it within two weeks.
Greg then wrote the Los Angeles City Attorney's Office, which would have had filing discretion on the case and submitted the proof of completion of the class, as well as, more importantly, a description of the events leading up to his arrest.
Greg heard nothing back from the City Attorney's office and grew a bit nervous as the arraignment date approached.
Greg then appeared at the downtown Criminal Courts Building (CCB), also known as the Clara Shortridge Foltz Building, to find out that the City Attorney's office had decided not to file the case.
The client was extremely happy with this news and thanked Greg for his help.
For more information about prostitution and no file issues, please click on the following articles:
Appeals Court Affirms LAPD Officer's Conviction for Solicitation of Prostitution (Penal Code § 647(b))
Contact us.