Downey, Shoplifting at Macy's, $211 in Items, Office Hearing
Our client, age 59, had no prior criminal history. She had lived an exemplary life, raising two children and now was caring for her elderly mother, who had recently suffered a stroke and was afflicted with Parkinson's. Our client worked for a large food service company after an earlier career as a chef. Our client lived in San Diego.
One day in June 2019, with the effects of Covid-19 having affected her employer's business, she had to make a visit to Fountain Valley to notify about twenty employees that they were being laid off. Our client understood the difficulties this would impose on such employees and so she had great anxiety about making the announcement that day in person.
Nonetheless, she did so and afterwards, planned on having dinner with a friend who lived nearby in Los Angeles. However, after announcing the layoff to the employees, she had some extra time to fill and decided to shop at Macy's in the Stonewood Mall in Downey.
She thought shopping would calm her down and let her return to some normalcy. She wandered around the Macy's in a daze, made more so because her Covid-19 mask over her mouth and nose kept fogging up her glasses. She found a few items of clothing that she like, valued at $211 and then, while still in a mental fog from the layoff announcement, walked out of the store without paying.
Macy's Loss Prevention team stopped her as she left the store and was walking out to her car.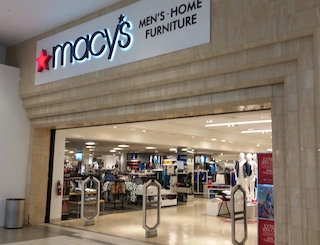 Macy's
Our client was overcome with confusion and realized she had truly committed shoplifting. She offered to pay for the items immediately, but loss prevention refused this invitation and instead called the Downey police department, who came to the scene. Our client also paid the loss prevention demand immediately, at the store, which was $450.

The Downey Police officer who came to the scene was extremely polite to our client, but nonetheless issued her a citation to appear in the Downy Superior Court about three months later. He then left. Our client then sat in her car and cried, believing she had just made herself unemployable if convicted of theft.
About two weeks later, the client called Greg Hill & Associates. She reached Greg Hill on a Saturday afternoon and spoke with him for about 45 minutes, explaining what had happened to her and asking what she could expect and do in advance.
Greg explained how such cases may be handled by diversion, an office hearing and prosecuted. Greg then explained what diversion would involve, how an office hearing worked and, if prosecuted, how Greg would try to resolve the case for trespassing or disturbing the peace, if possible.

Greg asked the client to send him proof of payment of the loss prevention fees and recommended that our client enroll in and take an online shoplifting prevention course (offered by Tom Wilson Counseling, the National Association of Shoplifting Prevention or Logan Social Services). Greg explained that the certificate of completion from that would be good for Greg to forward to the Downey District Attorney's Office, with a short cover letter suggesting an office hearing, or a DA reject in light of the emotional trauma our client was suffering from at the time she entered the Macy's, her age, her lack of any prior criminal history and her payment of the loss prevention fees.
The client then forwarded her receipt and completed the Logan Social Services class, also forwarding Greg the proof of completion of this.
Greg then wrote a short letter to the DA's office, suggesting a no-file decision, or, in the alternative, an office hearing to the resolve the case, enclosing our client's proof of completion of the Logan Social Services class and payment of the loss prevention demand.
The Downey District Attorney's Office did not respond to Greg letter and so on the date of the arraignment, Greg appeared on the client's behalf at the Downey Superior Court. The case, however, was not filed. Greg checked with the clerk's office and the District Attorney's office.
Greg then advised the client of this, explaining that the case certainly could still be filed later (but within the one-year statute of limitations) or the case could be referred to an office hearing.
As it turned out, the Downey District Attorney's Office decided to resolve the case through an office hearing, which our client greatly appreciated. She still had to enroll in and take the Third Millennium shoplifting class online, which the Downey District Attorney's office liked, to "earn a no file decision." The client was very happy with this resolution.
For more information about shoplifting, please click on the following articles: