Downey, Public Urination, Reduced to Infraction, $50 Fine
Our client, age 38, was seen zipping up his pants in an alley behind 10910 Paramount Boulevard in Downey. This was a hair salon, but our client had been out to a nearby bar and was walking back to his truck to drive home.

The police officer did not see our client actually urinating, but he could tell by the way our client was standing and then that he zipped up his pants that he was probably urinating. So he asked our client if he had just urinated on the wall nearby and our client sheepishly admitted he did so.
The police officer issued our client a ticket for violating Downey Municipal Code § 4116, which is a misdemeanor. The client knew what a misdemeanor was, as he two prior convictions for shoplifting in his early twenties. He was aware that a misdemeanor could be punished with jail time, so he was concerned about how the case would proceed.
He called a friend, explaining his ticket and his concerns. His friend referred him to Greg Hill & Associates. Greg had represented his friend in a prior DUI.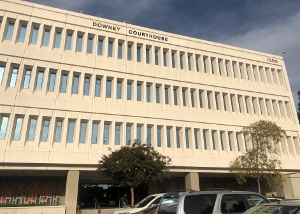 Downey Superior Courthouse

The client explained what had happened and Greg explained how the Downey City Attorney had handled earlier cases for public urination that Greg had defended in the Downey Superior Court. The client further explained that he worked in security at a major "Big Box" retailer and he could not be on any form of probation and even having a conviction for a minor misdemeanor might mean he would lose his job. He said, however, that a conviction for an infraction would allow him to keep his job. He further explained that he was engaged to be married soon and did not want to be jumping from one job to another job at this time in his life.
Greg recommended that the client attend ten or even twenty Alcoholics Anonymous (AA) meetings before the arraignment and then give him the sign-in sheet showing ten or twenty meeting were attended by the client. Greg then e-mailed the client an AA sign-in sheet he could take to each AA meeting.
The client then attended 20 AA meetings and gave Greg the AA sign-in sheet showing this attendance. Greg then went to the Downey Superior Court and met with the same Downey City Attorney who had handled earlier public urination cases with Greg.
Greg showed the Downey City Attorney the AA sign-in sheet with proof of 20 meeting attended. The Downy City Attorney then agreed to amend the complaint to allege an infraction for a violation of Downey Municipal Code § 4115 as an infraction. He said normally, the fine is $100, plus penalties and assessments (for a total of $750), but since our client attended 20 AA meetings, he reduced the fine to $50, which saved our client $375. Greg then entered the plea for the client to an infraction.
The client was very happy with this outcome. He said he could not sleep the night before the arraignment, worried that he'd lose his job and have to explain the situation to his future wife. He was relieved to have saved $375, as well.
For more information about public urination and the issues in this case, please click on the following articles:
Contact us.