Downey, Public Urination, Real Estate Agent, Infraction
Our client, age 26, was a real estate agent and was planning on become a real estate broker in the near. He had completed the extra classes and was about to submit his application for this upgrade in his professional status, mainly so he could open his own real estate business, but then he was ticketed for misdemeanor public urination in Downey, a violation of Downy Municipal Code § 4115.
The client at first did not think the ticket was that big of deal. He had been out to a few bars in the Downtown Downey area, Bastard's Canteen and Lock & Key, with friends. It was an unseasonably warm evening for February and everyone was enjoying the break in the rain and colder weather.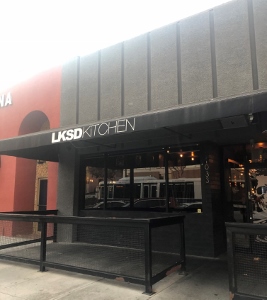 Lock & Key Bar in Downey
As he walked back to his car parked off Third Street, he felt the urge to urinate. So, he found a bush that looked like he could urinate into it without creating a big puddle on the ground. He was too far away now from any bar to go back to try to get in to use their restroom and, moreover, he really didn't want to take the time to walk back the block or so to just use a restroom.
As he was finishing up "watering the plants," a Downey police officer walked up to him and asked him if he had just urinated in the bush. Our client was zipping up his pants and tucking in his shirt at the time. He responded that he had urinated as the officer suspected.
The officer then took out his ticket book and proceeded to write our client a ticket. As he did so, he asked for our client's driver's license to correctly complete the ticket. He then filled out an arraignment date in the Downey Municipal Court (always a Thursday for such tickets) and had our client sign a promise to appear in court on the ticket. Our client signed the ticket, which the police officer handed our client and walked away.
Our client had a prior conviction for DUI from 2012, so he knew what a misdemeanor was. He knew this was not like a parking ticket, which was an infraction. He started getting worried about what consequence a second misdemeanor conviction would have on his application to become a real estate broker. When he had applied for his real estate agent license years ago, he had to provide quite a bit of information then about his DUI conviction.
The client therefore called Greg Hill & Associates and spoke with Greg Hill about his ticket. The client had done a bit of research on the Internet and read that a conviction for public urination could carry with it an obligation to register as a sex offender. He asked Greg if that was true and Greg said it was true hypothetically, but he had never seen a judge impose such an obligation on a public urination conviction. Greg pointed out that if the conduct was so egregious as to require registration under Penal Code § 290, it would have been more akin to indecent exposure, not public urination where one is peeing into a bush at night, away from others.
Greg further explained how such tickets are handled at the Downey Superior Court and recommended that the client attend ten Alcoholics Anonymous (AA) meetings prior to the arraignment to help Greg negotiate the case from a misdemeanor to an infraction and to lower the court fines.
Getting the case resolved as an infraction for the client was an important issue with his impending real estate broker application.

The client then did attend ten AA meetings prior to the arraignment and gave Greg proof of this to take to court with him at the arraignment. Greg met with the Downey City Attorney, the two then discussed the police report, wherein our client was described as cooperative, and the Downey City Attorney agreed to amend the complaint to resolve the case as an infraction.
In light of our client attending ten AA meetings, the standard court fine of $100 plus penalties and assessments was lowered to $50 plus penalties and assessments, or about $315.

The client was extremely happy with this resolution, as it avoided a second misdemeanor and being on any form of probation.

For more information about public urination issues, please click on the following articles:
Contact us.