Downey, Public Urination Near Mamba Bar, Infraction
Our client, all of age 21 and six months, went out with friends in the new Downtown Downey bar area. As the bars closed at approximately 2:00 a.m., he stood outside to continue talking with a few women he had met inside. The group even sat down and just continued flirting with each other. They were on Firestone Avenue about two blocks from Downey High School.
Finally, at about 3:00 a.m., he ventured back to his car and passed by The Mamba Bar, a small burger restaurant with a tiny patio area. He had to urinate, so he found a place in front of the bar that he thought was inconspicuous and urinated.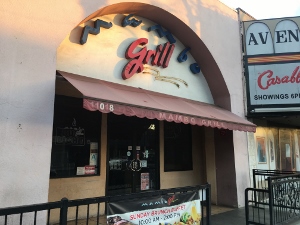 Mamba Bar
As he was buckling his belt and about to continue walking onward to his car, a Downy Police cruiser saddled up to the curb and the officer rolled down the window to ask our client if he had just urinated. Our client sheepishly answered that he had, expecting the officer to simply scold him as a reward for our client's candor.
However, once the client offered his casual confession, the police vehicle came to a stop and the officer exited the vehicle, asking our client for his driver's license. Our client was upset at himself for trusting the officer to treat him nicely. However, the officer did not reciprocate as our client expected.
Our client handed the officer his driver's license and the officer filled out a ticket, citing our client for violation of Downey Municipal Code § 4115. An arraignment date was set on the ticket and the officer asked our client to sign the ticket as a promise to appear in the Downey Superior Court on the designated date.
Our client signed his name and was handed the ticket, along with his license being returned to him. The officers quickly got in their cruiser and left the area.
Our client was confused at what had just happened, but went home and to bed.
The next day he took a closer look at the ticket and researched a bit online, finding that the municipal code section was a misdemeanor punishable by up to two years of informal probation, a fine of up to $1,000 and a county jail sentence of up to six months. He was shocked at this and wondered why no one had warned him of this and why he did not know about this generally. He was quite worried about going to jail or facing a large fine that he could not pay without taking out a loan from his parents. He imagined being on probation and reporting to a probation officer (which would not happen on informal probation).
He then contacted Greg Hill & Associates and spoke with Greg Hill about the ticket. Greg explained that such tickets were often reduced to infractions with no probation. Greg suggested that the client attend ten meetings of Alcoholics Anonymous (AA) and provide Greg a resume to take with him to the arraignment.
Greg further described his experiences handling such tickets with the Downey City Attorney, who was a patient and fair man. Greg explained that the client's lack of any criminal history, cooperation with the police ironically now would be helpful and his attending ten AA meetings would help Greg negotiate a resolution that might include reduction of the case to an infraction with a fine of $100 plus penalties and assessments (to total approximately $650).

The client then retained Greg Hill & Associates and did attend the ten AA meetings Greg recommended. The client also gave Greg his resume and college transcript to show the Downey City Attorney.
Greg next appeared at the arraignment at the Downey Superior Court. He reviewed the police report and discussed the case facts with the Downey City Attorney. Greg showed the Downey City Attorney our client's AA sign-in sheet showing he attended ten AA meetings and discussed how the client was cooperative with police. The Downey City Attorney agreed then to amend the complaint to allege an infraction-level violation of Downey Municipal Code § 4116 and make the punishment $50, plus penalties and assessments (total of about $300).
Greg accepted this kind offer on the client's behalf and entered a no contest plea to the infraction. The misdemeanor charge was then dismissed.
The client was happy with the resolution, as he had nightmares of being in jail for weeks on end and having to take out a loan to pay an enormous fine. His hard work in attending ten AA meetings and hiring Greg Hill & Associates helped prevent that.
For more information about public urination, please click on the following articles:
Contact us.