Downey, Public Urination Near Joseph's Bar & Grill, DMC 4115
Our client, age 33, was out in the Downtown Downey area for a Saturday evening with old friends. The group had gone to Mambo Grill & Sports Bar on Downey Avenue, then across the street to Lock & Key before heading back over the street again to Joseph's Bar & Grill between Second and Third Street.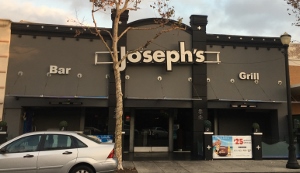 Joseph's Bar & Grill in Downey
As it neared midnight, our client decided to head home. He did not want to stay out too late. He said his goodbyes and headed out the door, only to realize rather quickly that he needed to use the restroom as he was walking back to his car.
He turned around and tried to get back into Joseph's, but the bouncer refused to let him in. The client tried to get into BRB Resto Bar, too, but they also would not let him in to use the restroom. So as our client was nearing his car, he decided to just urinate near some bushes.
A Downey police officer on foot saw our client and asked him if he had just urinated into the bush. Our client admitted that he had, because, according to the police report 'I just could not hold it any longer." He also told the officer that he did not know it was illegal to urinate in public as he had.
The officer advised him that it was indeed illegal and handed him a ticket for violation of Downey Municipal Code § 4115.
The client could see that the letter "M" was circled on the ticket, next to "I," which was not circled. The client understood this meant his crime was classified as a misdemeanor, so he knew it was more serious than he anticipated.
Our client, eleven years ago, had been convicted of misdemeanor disturbing the peace, Penal Code § 415(2), after much negotiating by his attorney from initial charges of battery upon a police officer, Penal Code § 243(c)(2). Nine years earlier, he had been convicted of obstructing a Beverly Hills police officer under Penal Code § 148(a)(1) and the same year, he had a DUI reduced to reckless driving, Vehicle Code § 23103 pursuant to Vehicle Code § 23103.5. So the client understood having an attorney to negotiate and plea bargain on his behalf could be of value.
The client called Greg Hill & Associates and explained what had happened and how in the past, he had hired attorneys who helped him avoid convictions for more serious offenses. He asked Greg if he could help him. The client also stated that it was very important that he resolve the case without any probation.
Greg explained how such misdemeanor public urination cases are often resolved in Downey Municipal Court as infractions, but cautioned that how they were resolved in the past, even the recent past, was no guarantee that his particular case would resolve similarly, especially with the client's criminal history. Greg explained that it would help if the client attended ten Alcoholics Anonymous (AA) meetings prior to the arraignment and to give Greg proof of this so he could take it to court.
The client then did attend 14 AA meetings and gave Greg his proof of attending such meetings before the arraignment. Greg then took this to the arraignment at the Downey Municipal Court and discussed the case with the Downey City Attorney assigned to the case.
Greg asked for a dismissal of the case, as our client was cooperative with police and did attend 14 AA meetings. The Downey City Attorney politely acknowledged our client's respectful response to the officer and the AA's attended, but stated all he could do was lower the misdemeanor to an infraction for the same code section. He also stated that he would lower the normal fine of $100 plus penalties and assessments (total of about $750) to $50 because our client had done 14 AA meetings.
Greg agreed to this resolution, as it meant our client avoided any probation and the case was resolved for an infraction, not a misdemeanor.
The client was very happy with this resolution.
For more information about public urination, please click on the following articles:
Contact us.