Downey, Public Urination (Municipal Code § 4116), Dismissal
Our client, age 25, was out with friends at a bar in the newly vibrant Downey bar area. She had enjoyed a good time in a good atmosphere.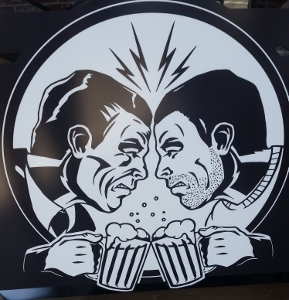 As she walked out of the bar, at approximately 1:45 a.m., the cold air of a November night made her realize she needed to urinate. She tried to go back into the bar, but the doorman told her it was too late and no one would be let in so close to closing time, 2:00 a.m. She pleaded with him to let her in, but the doorman would not relent.
In a Nutshell: Client receives a ticket for violating Downey Municipal Code § 4116, misdemeanor public urination, after she pees in a parking lot when the bar would not let her back in to use its restroom. Case dismissed after the client attends 20 Alcoholics Anonymous (AA) meetings.
Frustrated, and knowing she had a long drive home to Rancho Cucamonga, she decided to urinate near a hedge along the edge of the parking lot. Unbeknownst to her, a Downey police officer was watching her every step and fully observed her urinating.

After our client had pulled up her skirt and taken a few steps, she heard a voice behind her saying, "Excuse me, ma'am." She turned around to see a uniformed Downey police officer. Our client suspected the officer probably had seen her urinating.

Her suspicion was spot-on, as the officer explained why he was stopping her and asked for her identification. He then wrote out a ticket for her for violating Downey Municipal Code § 4116. He asked her to sign a promise to appear in the Downey Superior Court in about two months.
The ticket marked the charge as a misdemeanor.
The client had a prior criminal history for driving without valid insurance (Vehicle Code § 16028), so she knew from that case that having a second conviction may not be treated with leniency as her 16028 conviction had received. She therefore called Greg Hill & Associates and spoke with Greg.
Greg listed to the client explain what had happened and then explained how he had resolved similar charges in Downey and other courthouses. He explained that Downey could be tough on such a case because it was struggling to develop a downtown night life area and wanted to keep the area clean. On the other hand, Greg noted for the client that the charge could be brought as a misdemeanor or an infraction, which gave him a good avenue to negotiate the charge down.
Greg encouraged the client to attend ten or more Alcoholics Anonymous (AA) meetings prior to the arraignment, so he could take the proof of attendance with him to court for the arraignment to show the Downey City Attorney.
The client agreed to do so, but then did not attend any AA meeting before the arraignment.
Greg then went to the arraignment and met with the Downey City Attorney. The gentleman offered to reduce the charge to an infraction in exchange for a "no contest" plea to the infraction and payment of a $150 fine, plus penalties and assessments (total of about $840).
Greg responded that he appreciated the proposed plea bargain with a reduction of the misdemeanor to an infraction. However, he proposed a dismissal if the client attended ten AA meetings. The City Attorney, recognizing Greg from an earlier case, agreed, but added that our client had to attend twenty AA meetings.
Greg then asked the judge to continue the arraignment for sixty days to allow our client to attend the twenty AA meetings and the judge agreed.
Greg shared the proposed plea bargain with the client, who was ecstatic to have the case dismissed if she attended 20 AA meetings.

She then did so quickly. Greg retuned to the Downey Superior Court with the sign-in sheet from the AA meetings, showing she had attended 20 such meetings. The Downey City Attorney then looked at the sheet, keeping a copy that Greg gave him. He then asked the judge to dismiss the case, which the judge did.
We note that this was an unusual case insofar as we have sought a similar dismissal on the same grounds several more times and such a proposal has been rejected each time. However, such cases usually are resolved as an infraction instead of a misdemeanor, which is still quite good.
For more information about public urination, please click on the following articles:
Contact us.