Downey DUI, 0.23% BAC, Early End to Probation, Expungement
In late 2018, our client, then age 44, was returning home after an evening out with his friends in Downey at the bars along Downey Avenue. The area had experienced a recent rise in popularity and bars such as Joseph's Bar & Grill, the Mambo Grill and Kelley's Tavern had seen a surge in business. Our client had been at Joseph's earlier in the evening.
As our client was driving eastbound on Florence, he was allegedly speeding and this prompted a Downey police officer to make a traffic stop of our client, who had no passengers. Our client had a good job with a finance company, so he knew the flashing pink and blue lights in his rear-view mirror were trouble. Moreover, he had just finished probation on a 2015 DUI conviction out of the Torrance Courthouse and in 2003, had experienced a conviction for a wet reckless after an arrest for DUI.
Our client quickly pulled over and cooperated with the police officer. He submitted to a roadside preliminary alcohol screening (PAS) test, which measured his BAC at 0.23%. He was promptly arrested.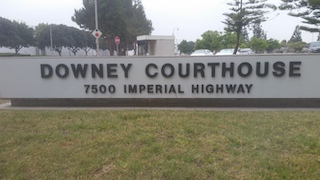 Downey Courthouse
Upon being released from custody, he called Greg Hill & Associates a few days later because Greg had represented the client in his Torrance case. He explained to Greg what had happened and asked what the penalties were likely to be for a second-time DUI, but his third overall. Greg answered his questions, but asked further questions about the traffic stop and exactly how the client was stopped, as speeding is sometimes stated by the police, but the client could not have been observed speeding and there was another reason (often illegal) why the client was stopped by police.
The client retained Greg Hill & Associates and Greg obtained the MVARS (mobile video audio recording system, or "Dash-Cam") video, which did in fact show our client speeding perhaps 75 miles per hour on city streets before being stopped. Our client also appeared less than sober in stepping out of his car.
Greg ultimately resolved the case for a DUI, but with only three years of informal probation and with the client obligated to complete the 18-month DUI program (the SB 38 program), pay a court fine of $450 plus penalties and assessments (credit two days' custody toward the $450), serve 96 hours in county jail and attend the Mothers Against Drunk Driving (MADD) victim impact panel.
After 17 of the 36 months of informal probation for the client, Greg reached out to him to ask him if he was interested in early termination of probation and then, if probation were ended early, expungement. The client was eager to have this done because he was eligible for promotion, but was denied a promotion because he was on probation. The client explained that he had completed all terms of probation (he started the SB 38 program immediately after his arrest, so he finished the program just one year into his probation).
The client needed the salary increase for his family because his wife had recently been forced to stop working due to Covid-19, so a promotion was sorely needed.
Greg then prepared, filed and served a motion for early termination of probation, including a declaration from the client explaining how since the arrest, our client had a new sense of urgency in his life. He started the SB 38 program almost immediately after his arrest and six months before he entered his plea to resolve the case. The declaration also explained how the client's wife had been laid off and he was denied a promotion at work because he was on probation, but was otherwise entirely qualified.
The Downey courthouse clerk then set a hearing date for the motion and gave our office notice of this date, which we then shared with the District Attorney's Office there.
At the hearing on the motion, the prosecutor stated that the People had no opposition to early termination of probation, so the judge did grant the motion.
We felt this was quite unusual, as usually the prosecution will oppose any modification of probation on a second-time DUI, especially when the first DUI was so recent as in this case and when there is a high BAC as here. We believe that the client's act of starting the SB 38 program early was significant to the judge's agreement to end probation early.
Our office then filed a petition for dismissal ("expungement") of the conviction a few weeks later, which the judge also granted.
The client was quite happy with these results and had a new sense of optimism about a promotion at work.
For more information about early termination of probation and expungement, please click on the following articles: