Downey Diabetic, DUI 0.16% BAC, Resolved As Wet Reckless
The Gist of this Article: Client arrested for DUI and without being asked if he was diabetic (he was), submits to a blood test. His BAC is 0.10%. Test was also performed over three hours after he last drove. Case resolved in Downey Superior Court for a wet reckless.

Our client, age 58, was returning home from an after-work get together with his boss and a few other co-workers at an adult day-care facility he worked at. Our client had consumed a few beers, but felt capable of driving safely home.
As he was driving east along Whittier Boulevard, a CHP officer patrolling nearby allegedly saw our client weaving and pulled him over. Our client was cooperative with the police officer, but he was arrested after the officer had him submit to a roadside preliminary alcohol screening (PAS) test and it measured his breath alcohol content at 0.16%, or double the legal limit.
Our client was diabetic, but the police officer did not ask him about this at all. Had the officer asked him about this, he may not have been quite so quick to conclude he was impaired. He may have been more careful and thorough in administering the field sobriety tests and asking him questions to gauge his mental impairment, if any.
However, our client's balance would have been affected due to an ear infection he was then suffering from.
Instead, the police officer quickly took our client to the Whittier Police Station. Three hours and twenty minutes after our client was last driving, the officer had our client submit to a blood test, again without ever asking him if he was diabetic.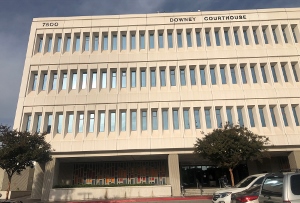 Downey Courthouse

Besides failing to ask such a basic question that is supposed to lead an officer away from a blood test, the officer waited too long to have our client's blood drawn. This is because the three-hour presumption under Vehicle Code § 23152(b) that the driver's blood alcohol content (BAC) is the same as when driving if the BAC is measured within three hours no longer applied when the BAC in this case was measured more than three hours after our client last drove.
Nonetheless, the blood was drawn and our client's BAC was measure at 0.10%, a major decrease from the PAS test results given on the roadside.

The client was released from the Whittier police station after a few hours being there to sober up.
He called Greg Hill & Associates and met with Greg the next day. Greg was intrigued by the fact that the client had diabetes and yet the police proceeded nonetheless with a blood test. Greg also told the client that lane straddling is a common reason for police to pull over someone, but lane straddling is strictly considered by courts. The straddling must be "pronounced" (People v. Perez (1985) 175 Cal.App.3d Supp. 8, 221 Cal.Rptr. 776 at 778 (must be more than six inches into the adjacent lane)) and it must take place over a long distance (U.S. v. Colin (2002) 314 F.3d 439 (over a quarter mile insufficient)). Usually, there is insufficient lane straddling for a traffic stop or at least the police report does not describe it sufficiently.
Greg explained also that he would have the client's blood sample retested, which we ended up doing and the blood alcohol content was remeasured at 0.08%.
The case was then brought in the Downey courthouse and Greg appeared in court eight time on the case. During this approximately eight-month period, Greg requested a wet reckless due to the widely varying BAC for our client and his diabetic condition that rendered the BAC measurements unreliable. Greg also explained that our client's job required him to have a valid driver's license, as he often drove the dependent adults to and from medical appointments and having a conviction for DUI would cause him to lose his job.
Greg submitted a Defense Position Letter with a mitigation packet to the head DA at the Downey courthouse and met with him for over an hour to discuss the case.

After a few more months, the head DA at the Downey courthouse kindly agreed to allow our client to resolve the case as a wet reckless (a plea to Vehicle Code § 23103 pursuant to Vehicle Code § 23103.5). The terms would be that our client nonetheless install an ignition interlock device (IID for four months), but not pursuant to a DMV order, while on three years of informal, or summary probation, as well as complete the three-month alcohol awareness program and pay a court fine of $390, plus penalties and assessments (less credit for two days in custody).
The client was extremely happy with this resolution that allowed him to avoid a conviction for DUI and keep his job.
For more information about DUI, please click on the following articles:
Contact us.