Why Do Police Ask If a Driver Has Diabetes in a DUI?
If you were arrested for DUI and police did not ask whether you have diabetes – and you do have the condition – does this matter? It certainly does. If your attorney does not ask you about this, it is equally concerning, especially if one's breath measured blood alcohol content (BAC) is below 0.15%. This is because with someone with diabetes, the condition can greatly increase a person's BAC.
Brief Synopsis: Police should ask a driver if he or she has diabetes because a diabetic will process ethanol at a different rate, especially if the driver is taking insulin to manage the diabetes. A diabetic's blood alcohol content will often be measured quite a bit higher than is accurate because insulin will speed up the metabolism of blood sugar and thus, ethanol, "dumping" more into waste products exhaled by the lungs and into the blood.

In an individual with normal metabolism, blood glucose levels are regulated precisely and kept within a relatively narrow range. This range varies by individual and in most cases it is well about 60 milligrams per deciliter (mg/dl). This is because, by laboratory definition, hypoglycemia is defined as a blood sugar level below 60 mg/dl.
Diabetes patients and individuals who have certain kinds of tumors or possess other errors of metabolism, however, are unable to precisely regulate their glucose levels, which can range from extremely high or plunge to dangerous lows. The body, through the process of metabolism, breaks down the natural sugars (carbohydrates) that are eaten and converts them to glucose, which can then be absorbed from the intestines into the blood. At any given time during the day blood glucose reflects a balance of the amount of glucose absorbed from the intestine, the glucose converted and released by the liver into the blood, and that going from the blood directly into the cells of the body.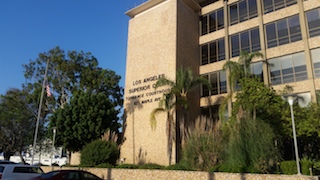 Torrance Courthouse
Only glucose can be utilized by the cells of the body and glucose needs insulin, which is produced by the pancreas, to get into the cells. Insulin, manufactured in the pancreas, lowers blood glucose levels by allowing glucose to move into the cells. However, insulin will speed up the rate that alcohol burns off (or oxidizes) in the body. Consequently, any evidence in a DUI case of blood alcohol level projections from the time of arrest is open to doubt.
When insulin is not produced in sufficient amounts, blood glucose levels rise to extreme levels and it is not released to the cells of the body. When the cells of the body are deprived of nourishment via glucose, a condition called low blood sugar (hypoglycemia) can develop. Symptoms are usually divided into those affecting the body and those affecting the brain or central nervous system (CNS). Those affecting the CNS are light-headedness, confusion, headache, loss of consciousness, seizures, delayed reflexes, and slurred speech, some of the symptoms a police officer may mistake for alcohol intoxication.
On the other hand, diabetics can inject more insulin than they need, which can cause hypoglycemia. The most common prerequisite for hypoglycemia is an overdose of insulin with too little carbohydrate intake or by taking other medications that decrease the blood glucose levels. Although not as common, other errors of metabolism, including insulin-producing tumors or non-islet cell tumors, can also cause hypoglycemia and account for driving errors that call attention to themselves, including, but not limited to, moving in wavy lines, driving in the opposite direction, or running off the road, and subsequently can lead to a driver being charged with a DUI when there may be a negligible amount of alcohol actually involved.
Alcohol (ethanol) can also lead to hypoglycemia when the liver is depleted of glycogen and will typically develop six to twenty-four hours after a moderate to heavy intake of ethanol in a person that has had an insufficient intake of food for one or two days. This can have a compounding effect and make the individual appear intoxicated when in fact the person's actual BAC is well below the legal limit.
Type 1 diabetics, if untreated, commonly produce high levels of acetone in their blood. This is because the liver breaks down fat and proteins in response to a perceived need to support the respiratory process. The effect of excess acetone in the breath can be astonishing. In a study done in 1988 (by Mormann, Olsen, Sakshaug, and Morland; Measurement of Ethanol by Alkomat Breath Analyzer; Chemical Specificity and the Influence of Lung Function, Breath Technique and Environmental Temperature, 25 Blutalkohol 153), researchers discovered acetone levels that are high enough can create a reading of .06% on a breath test. That is just .02% under the legal limit of .08%. Consequently, in Type 1 diabetics, if the client has not used his or her medication recently, one can argue that increased acetone levels on the breath caused an inaccurate breath test readings of the client's BAC.
For more information about the issues in this article about DUI, please click on the following articles:
Contact us.