Downey, 0.8 Grams of Cocaine, 45 NA's in 90 Days, Dismissal
Our client, age 24, was driving his black Dodge Charger eastbound on Florence Avenue in the City of Bell Gardens. It was about 10:35 p.m. and a Saturday night, so law enforcement were suspicious of anyone driving in an unusual manner to be possibly driving while intoxicated (DUI).

A Bell Gardens police officer allegedly observed our client driving at 60 to 65 miles per hour in a 40 mile per hour zone. The same officer then observed our client run through a red light right in front of and perpendicular to the officer. The officer then turned right to follow our client. Our client then allegedly made several lane changes without using a turn signal, causing other cars to brake in response to avoid a collision.

In a Nutshell: Client pulled over in Bell Gardens for multiple Vehicle Code violations, including speeding and running a red light. His BAC is 0.092% at the scene. Cops find 0.8 grams of cocaine in his car. Case filed at Downey Superior Court and resolved for 45 Narcotics Anonymous meetings in 90 days for a dismissal. DUI not even charged.

The police officer then turned on his overhead blue and red flashing lights to pull over our client.
When the officer came face to face with our client, he noticed the odor of alcohol, so he asked our client if he had been drinking. The client replied that he had consumed two beers earlier in the evening. The officer then asked our client to exit the car and had him perform certain field sobriety tests. Our client allegedly failed them all, including the ones that to fail, one must have a blood alcohol content (BAC) of 0.10% or higher.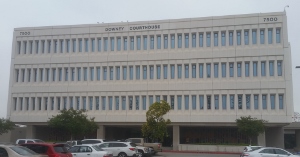 Downey Superior Courthouse
The client then submitted to a preliminary alcohol screening (PAS) test at the scene and his BAC was measured at 0.92% and 0.76% BAC. He later also submitted to a blood test later at the station.
While still at the scene, the officer allegedly spotted the corner of a plastic baggie protruding from under the leather "hood" surrounding the center console stick shift. The officer recognized this as a common hiding place where suspects often stored drug paraphernalia and drugs. So the officer reached down and pulled out the baggie.
The baggie had 0.86 grams of cocaine, which our client admitted to. The client was then arrested and taken to the Bell Gardens police station, where he provided a blood sample.
Upon being released from custody after signing a promise to appear for his arraignment at the Downy courthouse in several weeks, he called Greg Hill & Associates. He spoke to Greg, explaining what had happened and asking what Greg thought would happen.
Greg Hill & Associates reserved a DMV Hearing for the client, as the case was a DUI. However, about a week before the hearing, the DMV sent notice that the suspension would be set aside because the blood BAC was measured at 0.06%.
Greg then appeared at the Downy Superior Court and was pleased to see that the only charge was for violation of Health & Safety Code § 11350, a misdemeanor. As our client had no prior criminal history, the prosecutor at first offered a plea bargain with three years of summary probation, 52 Narcotics Anonymous (NA) meetings and a $300 fine.
Greg countered that the client was eligible for PC 1000 and after some confusion by the DA with what PC 1000 even was (the judge had to explain this to the DA), the DA reluctantly offered PC 1000 to our client. In all fairness, newer DA's are understandably unfamiliar with the PC1000 diversion program because it is rarely offered nowadays. Judicial diversion and DA diversion had been largely used for several years and not PC 1000 or even Prop 36.
However, the client then entered into the PC 1000 program with a promise by the prosecutor to dismiss the case in 90 days if the client attended 45 NA meetings, which were terms even better than PC 1000, which typically lasts at least one year.
The client was happy that Greg's experience allowed him to counteroffer as he did and prevent a conviction, so that the client could maintain his clean record with no convictions.
For more information about possession of a controlled substance, please click on the following articles:
Contact us.