Downey, 0.198% BAC & Speeding, AB541 Program, Fine Only
Why This Article Matters: Sometimes there are significant problems with the evidence, so having an experienced DUI attorney can make a difference in knowing how the problems undermine the prosecution's ability to prove their case, as this seemingly hopeless DUI exemplified.

Our client, age 30, was an electrician by trade. He and some of his co-workers went out for a few drinks in Downey after work one evening. Our client had been borrowing his girlfriend's car, so when he and his co-workers called it a night, our client wanted to hustle back to his girlfriend's house to return her car as soon as possible.
As he was waiting for a red light on Old River School Road, he became impatient and just pulled his car to the left, into opposing traffic and proceeded through the intersection on a red light. Little did our client know, but two cars behind him, also waiting for the red light, was a Downey Police car.
The police officer observed the sequence of events and also pulled out to try to pull over our client, who not only ran a red light, but also was then seen driving allegedly going 65 miles per hour on Old River School Road where the speed limit was 45 miles per hour.
The police officer immediately accused our client of being DUI and pushed the client into the field sobriety tests before even checking our client's license, registration or proof of insurance. The officer was extremely rude to our client, repeatedly accusing our client of "almost killing innocent bystanders," yet there was no one standing along Old River School Road at the time, which was about midnight.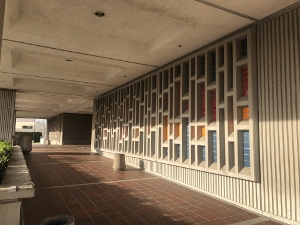 Downey Courthouse Entrance
The officer then told our client he must submit to a preliminary alcohol screening (PAS) test, which is actually not true. As the reader may know, field sobriety tests (including the PAS test) are voluntary (Vehicle Code § 23612(i), with certain exceptions that concern the PAS test, but did not apply in this case).
Nonetheless, the client did submit to a PAS test and his breath alcohol content, which is supposed to reflect one's blood alcohol content (BAC), was measured at 0.198% and 0.194%, well over twice the legal limit of 0.08%. Our client was immediately arrested and taken to the Downy Police Station, where he was asked to submit to a second breath or blood test, but our client refused.
Upon being released, the client called Greg Hill & Associates and spoke to Greg Hill. He described what had happened. This was the client's first DUI, so he was anxious about knowing what to expect.
Greg explained what he anticipated would be the offer from the Downey District Attorney and why. Greg expected the first offer to involve thirty-six months of informal, or summary probation, with 60 days of county jail for speeding over 20 miles per hour on a city street (Vehicle Code § 23582), a court fine of $390 plus penalties and assessments (total of about $1,900), as well a nine-month alcohol awareness program (AB 1353 program) for refusing the breath or blood test at the station, the Hospital and Morgue (HAM) program and the Mothers Against Drunk Driving (MADD) Victim Impact Panel (VIP). Greg also stated that such conditions of probation may be eased slightly if there were problems with the police report that made the prosecution less confident of a conviction.
This indeed did occur, as the arresting officer failed to certify the PAS results, which meant it legally could not be relied upon as a field sobriety test, although its measurement of our client's breath alcohol content would nonetheless be introduced to the jury.
The District Attorney also did not seem to be aware of the sixty-day county jail enhancement, so this was not included in the initial offer.
The police report's second page of the DS-367 also seemed to cross out paragraph three of the admonition given by the police to one refusing a breath or blood test, so there was confusion as to whether a complete admonition was given by the police officer.
However, the District Attorney did include the nine-month alcohol awareness program as part of the offer. The fine, HAM and MADD were also included.
Over the next three court appearances, Greg gently explained the problems with the police report to the prosecutor, who eventually reduced the offer to three years of informal probation, a three-month alcohol awareness program and no HAM or MADD. Our client accepted this much improved offer, which was remarkable with speeding at 65 in a 45 zone, a 0.198% and 0.194% BAC and a later refusal to submit at the station. Through Greg's plea bargaining, the client saved approximately $1,500 in total costs over the initial offer.
For more information about DUI and the issues in this case, please click on the following articles:
Contact us.