Double Jeopardy Bars Punishment for Street Terrorism
Michael Hong Louie and Soriyaa Ek were both validated gang members. This means they either admitted to being so or the police had reliable information that they were members of a criminal street gang under the ten-point gang validation criteria.
Condensed Version: Street terrorism sentence stricken when defendant already punished for underlying arson and criminal threats.

They were convicted of arson (Penal Code § 452), criminal threats (Penal Code § 422) and street terrorism (a sentencing enhancement under Penal Code § 186.22). The underlying facts are that Louie and Ek, in January of 2007, allegedly set fire to a Stockton, California, apartment of a woman who repeatedly reported gang activity in her neighborhood. Both defendants were also charged with attempted murder (Penal Code §§ 664, 187), but the jury returned a not guilty verdict on the attempted murder charge.
Ek was sentenced to a total of fourteen years to life in state prison, plus nine years and four months. Louie was sentenced to a total of seven years to life, plus five years. The additional time, nine years and four months for Ek and five years for Louie, were added under Penal Code § 186.22 to the base sentence for being validated gang members.
Both defendants challenged their sentence enhancements for street terrorism because their sentences were based on the underlying acts of threatening the witness and burning her apartment, acts for which they received punishment for dissuading a witness and arson. In other words, the punishment for street terrorism was redundant and thus unfair. This was not "double jeopardy," but it did mean being punished more than once for the same conduct.
The Third Appellate District, in
People v. Michael Hong Louie
(2012 DJDAR 1777) agreed. The Court relied upon Penal Code § 654, which prohibit punishing an act or omission under more than one provision of the law. The Court commented that punishment is distinguishable from convictions, noting that a defendant may be convicted on multiple theories for the same act.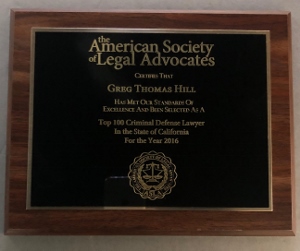 Here, however, in the majority opinion, the Court stressed the principle that a defendant's punishment be commensurate with culpability and that the gang enhancement, which resulted in indeterminate life terms, was punishment under more than one provision of the law for the same conduct. The sentence in this case, the majority said, was indeed commensurate with each defendant's culpability.
The concurring opinion came to the same conclusion, but via a different reason. It pointed out the membership in a gang is a status and not an act. Therefore, it would be unjust to punish defendants for their status alone. In other words, without an independent act that was otherwise not punished, any sentence in this case would be improper if it was just for gang membership and nothing more. Here, however, defendants were already punished for arson and dissuading a witness.
Ek also appealed being punished with two consecutive eight month sentences, for dissuading a witness before the fire, and after the fire, doing the same thing. The court agreed with Ek that both of her contacts with the witness related to a single event, the fire in the apartment, and therefore Ek should only be punished with one eight month sentence.
For more information about sentencing issues, please click on the following articles:
For case summaries of selected cases our firm has handled, click
here
.
Contact
Greg Hill & Associates