Does Vehicle Code § 2800.2 Apply on a Private Road?
Summary in 50 Words or Less: Evading arrest by use of a vehicle in a reckless manner when followed by a police officer exhibiting lights and sounding a siren (Vehicle Code § 2800.2) can apply to such conduct on a private road.

Danny Jerry Corder was on probation in February 2016 and living with Annette Payne on a 30-acre family farm in Portola, California. Three Plumas County Sheriffs came to the farm at about 9:40 p.m. on February 4, 2016 "to conduct a probation search on Corder." The exact reason for such a search is not material to the issues in this case and what happened next.
Deputies parked about 100 feet from the house on the farm and as they were walking up to it, they heard a pickup truck start its engine. One of the deputies pointed his flashlight at the truck and saw Mr. Corder behind the wheel. The deputy then shone his flashlight on himself so Corder would know there was a law enforcement officer present.
In response, Corder drove the pickup truck directly at the deputies, who jumped or ran out of the way to avoid being run over. Corder then made a U-turn and drove back at the deputies in the same manner.
The deputies jumped in their cars and pursued Corder. They activated their emergency lights and flashers. The chase only reached 30 to 35 miles per hour, but deputies characterized this as an unsafe speed for the terrain.
Corder finally came to a stop and got out of the truck. Deputies also got out, drew their guns and told Corder to put his hands in the air. In response, Corder got back in his truck and drove off, with deputies again in pursuit.
Deputies eventually gave up on chasing Corder and went back to the Payne home, where Corder had also returned. Deputies then fought with Corder and eventually "Tased" him, finally handcuffing him and taking him into custody.
The case went to trial, with Corder being charged with four counts of assault on a peace officer with a deadly weapon (a car), felony evading a police officer while driving in a reckless manner, two counts of resisting a police officer and an enhancement for personally inflicting great bodily injury (one officer broke his hand).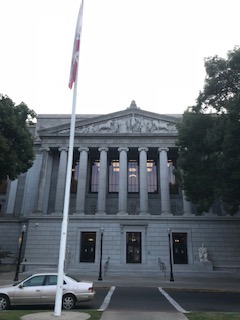 Court of Appeal Third Appellate District Sacramento
Corder testified on his own behalf at trial. He raised many defenses, but this article will only focus on his defense that, under Vehicle Code § 21107.7, he could not be convicted of felony evading a police officer while driving in a reckless manner (Vehicle Code § 2800.2) because his driving was on private roads.
Vehicle Code § 21107.7 specifically recognizes that there are private roads that are privately owned and maintained and which are generally not held open for use of the public for purposes of vehicular travel. However, section 21107.7 specifically states that "the motoring public will best be served by application of the provisions of this code to those roads."
Corder argued that the Vehicle Code could not apply to an area of private roads.
The Plumas County trial court rejected Corder's argument in this regard and he was convicted of all counts. Corder was then sentenced to twelve years in state prison.
Corder then appealed to the Third Appellate District, which also rejected Corder's arguments. The Third Appellate District looked to 21107.7, which it noted was part of Chapter 11 of the Vehicle Code. Chapter 11 applies and defines the rules of the road. Section 21001 defines their applicability as being to the highways, unless a different place is specifically referred to.
The Third Appellate District then looked to the legislative history of 21107.7 and found that it was the intent of the Legislature to create a mechanism whereby the rules of the road would indeed apply to private roads. In fact, the Third Appellate Court noted, there is no statute limiting the Vehicle Code to public roads and section 21107.7 did not create one.
Moreover, section 2800.2 is not even part of Chapter 11, so 21107.7 really is not on point anyways. The crime of evading an officer is not part of the rules of the road and is not limited anywhere to driving on a highway. It can be committed, as here, on private land or on a private road.
We write this article because over the years we have had cases involving evading a police officer on property owned by a shopping mall and a DUI on a golf course. In such cases, a similar issue arose, but was resolved with research that showed the applicable code sections did apply to a private shopping mall area and on a golf course.
The citation for the Third Appellate District Court ruling discussed above is People v. Danny Jerry Corder (3d App. Dist., 2018) 26 Cal.App.5th 554.

For more information about evading arrest, please click on the following articles:
Contact us.