Does Prop 64 Mean I Can Have Marijuana in Prison and Jail?
In Article 1017 on this website (linked below), we described how the First Appellate District Court in People v. Perry (2019) 32 Cal.App.5th 885 held that the Adult Use of Marijuana Act (Prop 64) did not change the law, at Penal Code §§ 4573.6 and 4573.8, prohibiting the possession of marijuana in jail or prison.

Why This Article Matters: Prop 64 does not allow inmates in county jail or state prison to possess or consume (smoke or otherwise ingesting) marijuana.

Three months after the Perry decision, however, the Third District held in People v. Raybon (2019) 36 Cal.App.5th 111, held that Prop 64 did change the law on the possession of marijuana in jail and prison, making it legal. The court curiously distinguished between possession of marijuana on one hand and smoking or ingesting marijuana, on the other hand, finding that smoking or ingesting marijuana remained illegal in prisons and jails, but possession was no longer illegal. Quite frankly, we found this type of academic hair-splitting unpersuasive.
The California Supreme Court has agreed to resolve this disagreement among the district courts, granting review in Raybon, but its ruling has not yet been issued.
Until that happens, the Fourth Appellate District, on June 5, 2020, has weighed in on the issue in People v. Artemis Whalum (2020 DJDAR 5478), holding that Perry, not Raybon, correctly interpreted Prop 64.
The facts of the Whalum case are rather ordinary, but merit a short review. Mr. Whalum is serving a prison sentence for possessing cannabis in a correctional institution in violation of Penal Code § 4573.8. He was found in possession of 0.4 grams of cannabis in his prison cell in Centinela State Prison in September 2013, well before Prop 64 was passed.

Almost two years later, in August 2015, Whalum pled no contest to violation of 4573.8 and the trial court judge in Imperial County imposed a sentence of two years and eight months (32 months) to run consecutive to the sentence Whalum was otherwise already in prison serving. The sentence was sixteen months, doubled for Whalum's prior conviction for a strike offense.
On November 8, 2016 ,voters approved Prop 64 and it became effective the following day. Part of Prop 64, codified at Health and Safety Code § 11361.8(a), states "[a] person currently serving a sentence for a conviction, whether by trial or by open or negotiated plea, who would not have been guilty of an offense, or who would have been guilty of a lesser offense under [the law enacted by Proposition 64] had that act been in effect at the time of the offense may petition for recall or dismissal of sentence before the trial court that entered the judgment of conviction in his or her case to request resentencing or dismissal . . ."
On July 19, 2019, the Imperial County Public Defender's office filed a petition to recall and dismiss Whalum's sentence based on § 11361.8(a). At a hearing on August 20, 2019, the trial court judge denied by petition, relying upon Perry, supra.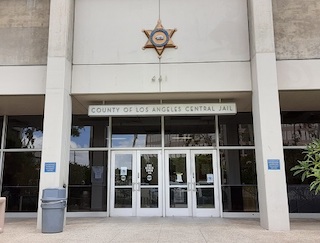 Mens S. Central Jail Los Angeles
Whalum then appealed this ruling to the Fourth Appellate District, which affirmed the trial court. We think the reasoning of the Fourth Appellate District ruling is sound and that the California Supreme Court will reverse the Third District's ruling in Raybon.
The Fourth District explained that Prop 64 did not affect laws that made it unlawful to driver or operate a vehicle, boat, vessel or aircraft while smoking, ingesting or impaired by cannabis or cannabis products or laws that prohibited the sale, administering, furnishing or give away of cannabis a person under age 21.

More specifically, Health and Safety Code § 11362.45 states: "Section 11362.1 does not amend, repeal, affect, restrict, or preempt: . . . (d) Laws pertaining to smoking or ingesting cannabis or cannabis products on the grounds of, or within, any facility or institution under the jurisdiction of the Department of Corrections and Rehabilitation or, the Division of Juvenile Justice, or on the grounds of, or within, any other facility or institution referenced in Section 4573 of the Penal Code." Therefore, Penal Code § 4573.6 survived Proposition 64.

The citation for the Fourth Appellate District Court ruling discussed above is People v. Artemis Whalum (4th App. Dist., 2020) 50 Cal. App. 5th 1, 263 Cal. Rptr. 3d 599.

For more information about issues with drugs in prison, please click on the following articles: