Does Prop 64 Legalize Having Pot in Prison & Jail?
As one might expect, the Adult Use of Marijuana Act (Proposition 64) has spawned a myriad of questions as to what it allows and what it changes. Reading the actual statute is often confusing and often leaves someone, especially someone who is not accustomed to reading statutes, with an impression that laws are written in ambiguous terms.
The Reader's Digest Version: Prop 64 legalize possession of up to 28.5 grams of marijuana by anyone 21 years old and over, with certain exceptions. The exceptions do not list a person in jail or prison. The case summarized below deals with just the situation, finding that Prop 64 did not allow possession of pot in jail or prison.

When Nisaih J. Perry was serving a prison sentence in 2010, he was found in possession of fourteen grams of marijuana inside the prison and two years were added to his prison sentence. The two years was based on Penal Code § 4573.6(a), which prohibits the unauthorized possession of any controlled substance inside a correctional facility. It is a felony with punishment of two, three or four years for each violation. Mr. Perry was sentenced to the low term under § 4573.6(a).
On November 8, 2016, California voters approved Proposition 64 (adding Health and Safety Code § 11362.1) which legalized possession of "not more than 28.5 grams of cannabis" by anyone age 21 and older, with certain exceptions.
A week after the law was passed, Mr. Perry wrote the Solano County Superior Court asking to have his conviction for violating 4573.6(a) expunged. As the reader of this article may recognize, expungement is generally not available to someone sentenced to and who does serve a prison sentence. However, if a statute does change the classification of a crime from a felony to a misdemeanor and the corresponding punishment is lowered to a year or less, a person can seek expungement of the conviction despite having truly served over a year in state prison for the conviction. Our office, Greg Hill & Associates, has been fortunate to have this wrinkle in the law apply to a few clients, for which we helped obtain expungements under these circumstances.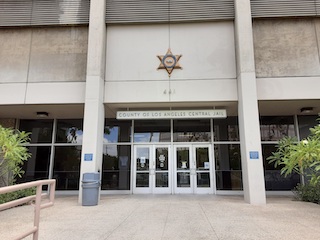 Men's Central Jail
For Mr. Perry, the threshold assumption he was making and which the Solano County district attorney (and judge) recognized was whether Prop 64 amended Penal Code § 4573.6(a). Put another way, did Health and Safety Code § 11362.1 apply broadly to 4573.6(a) for those in custody?
The trial court judge who sentenced Perry to two years decided that Prop 64 did not amend Penal Code § 4573.6(a).
Perry therefore appealed to the First Appellate District in San Francisco. The First Appellate District, in People v. Nisaih J. Perry (2019 DJDAR 1856) pointed out from the outset that when Perry pled no contest to a felony violation of 4573.6 in 2010, possession of less than 28.5 grams of marijuana was a misdemeanor under Health and Safety Code § 11357(b). He did not enter his plea to a violation of 11357(a), but did to 4573.6 instead.

The First Appellate District then noted that the text of Proposition 64 specified which provisions of California law it modified and while 11357(b) was listed, 4573.6(a) was not. In fact, under Prop 64, under Health and Safety Code § 11362.45(d), it addressed possession of cannabis in prison, stating that 11362.1 "does not amend, repeal, affect, restrict or preempt . . . [l]aws pertaining to smoking or ingesting cannabis or cannabis [products] on the grounds of, or within, any facility or institution under the jurisdiction of the Department of Corrections and Rehabilitation. . . ."
The First Appellate District then acknowledged that this provision actually stated "smoking or ingesting" only and did not address possession. However, it concluded that the legislative intent was to leave intact and not change any laws restricting cannabis use or possession in correctional facilities. After all, the quoted phrase was "law pertaining to," which would logically include possession.
It then recited a common fundamental approach toward statutory interpretation: "In interpreting a voter initiative . . . we apply the same principles that govern statutory construction. Thus, we turn first to the language of the statute, giving words their ordinary meaning." In other words, the statutory language must also be construed in the context of the statute as a whole and the overall statutory scheme. "We adopt a construction 'that will effectuate the voters' intent, giving meaning to each word and phrase, and avoid absurd results." Santos v. Brown (2015) 238 Cal.App.4th 398, 400, quoting People v. Stringham (1988) 206 Cal.App.3d 184, 196-197.
In doing so, the First Appellate Court concluded that Prop 64 did not modify Penal Code § 4573.6(a) to legalize possession of marijuana in state prison or any jail.
The citation for the First Appellate District Court ruling discussed above is People v. Nisaih J. Perry (1st App. Dist., 2019) 32 Cal.App.5th 885, 244 Cal. Rptr. 3d 281.

For more information about Prop 64, please click on the following articles:
Contact us.