Does Prop 47 Allow Expungement of Juvenile DNA Profile?
Brief Synopsis: The DNA Act does not permit destruction of one's DNA sample and DNA profile after a felony is reduced to a misdemeanor under Prop 47, as the following case summary of two juveniles seeking this explains.

Two juveniles, who will be identified only by their initials C.B. & C.H., brought separate challenges, based on Prop 47's provisions of reducing certain felonies to misdemeanors, to the continued retention of their DNA under the DNA Act, also known as The DNA and Forensic Identification Database and Data Bank Act of 1998.
C.B. and C.H. did not know each other, but each had juvenile cases with similar facts. C.H. entered a department store in Contra Costa in 2011. He changed into a pair of pants being sold by the store and then walked out without paying He saw his friends fighting with a loss prevention officer from the store and joined in the fight. C.H. kicked the officer in the head.
C.H. was then arrested. Later, a petition was filed against him for felony grand theft of a person (Penal Code § 487(c)). As the reader may know, in a juvenile proceeding a petition is functionally similar to a complaint in an adult action. Later, C.H. admitted the petition, meaning it was sustained, and C.H. was ordered to submit fingerprints and DNA samples to the California Department of Justice.

In 2013, C.B. entered an unoccupied home and stole jewelry, a wallet, a cell phone and a video game system. When the homeowner returned home and found C.B. inside, C.B. pulled out a knife and tried to escape. The homeowner, however, detained C.B. and police then came to arrest him on felony residential burglary.
C.B. was later charged with and admitted a petition alleging felony grand theft of a person and misdemeanor residential burglary (Penal Code § 459). He was ordered to submit fingerprints and DNA samples like C.H.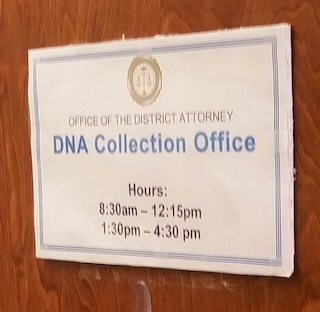 DNA Office Sign
The California Department of Justice maintains a databank of DNA samples and genetic profiles collected from certain adult and juvenile offenders who have been arrested, convicted or declared wards of the court (Penal Code §§ 295 – 300.4). Juveniles declared wards based on felony conduct must submit samples, but need not do so for most misdemeanor offenses (Penal Code § 296(a)).

The Legislature established a procedure under Penal Code § 299 for folks with DNA samples and genetic profiles in the databank to request destruction of a sample and expungement of a profile from the databank.

In 2014, voters passed Prop 47, which reclassified certain felonies to misdemeanors under Penal Code § 1170.18. In 2015, both C.B. and C.H. separately petitioned to have their felony adjudications reclassified as misdemeanors, have their fines reduced and have their DNA samples and profiles expunged from the state databank under Penal Code § 299. In both cases, the judges granted the reclassification petitions, but denied the DNA expungement request.
Both C.B. and C.H. appealed and both lost at the appellate court level. In C.B.'s case, the court of appeal held that Prop 47 did not expand the existing grounds for expungement of the DNA samples and profile and in fact, after Prop 47 passed, the Legislature amended § 299(b) to clarify that re-designation of a felony as a misdemeanor was not a basis for removal of the sample or profile.
In C.H.'s case, the appellate court held that when C.H. committed his offense, the offense was a felony, so the DNA was properly collected at the time. The court then noted that nothing in § 299 or § 1170.18 allowed expungement based on reclassification of the offense (In re C.H. (2016) 2 Cal.App.4th 1139, at pp. 1145-1151) and expressly disagreed with Alejandro N. v Superior Court (2015) 238 Cal.App.4th 1209, 1226-1230, which said such expungement was allowed.
The California Supreme Court then granted review when both C.H. and C.B. appealed, and consolidated the cases. The Supreme Court commented in its ruling that both limited their appeals to the Prop 47 grounds and did not claim that the state's retention of their DNA implicated a constitutionally protected privacy ground (hinting, impliedly, that if C.H. and C.B. had done so, their ruling might have been different).

The Supreme Court then sustained both lower courts, agreeing that the DNA Act does not permit expungement of the sample or profile just because a felony is reduced to a misdemeanor under Prop 47. The court held that there was a rational basis for treating individuals who have already submitted DNA samples differently from those who have not.

The citation for the California Supreme Court ruling discussed above is In re C.H. and C.B. (2018) 6 Cal.5th 118.

For more information about DNA issues, please click on the following articles:
Contact us.