Expungement of DNA Record if Prop 47 Relief Granted?
Under California law, there are three general categories of people who must provide a DNA specimen. First, anyone convicted of a felony must provide this, pursuant to Penal Code § § 295 and 296(a)(1). Second, such a sample must be provided by anyone arrested or charged with a felony under Penal Code § 296(a)(2)(c). Third, all persons required to register as a sex or arson offender as a result of the commission of a felony or misdemeanor. Penal Code § 296(a)(3). A person convicted of solely a misdemeanor is not required to provide a DNA sample.
Alejandro N. v. Superior Court
(2015) 238 Cal. App. 4th 1209, 1227.
The Gist of this Article: If one's felony conviction or adjudication is reduced to a misdemeanor under Prop 47, the judge does not have authority to order one's DNA profile or DNA evidence gathered as a result of the felony conviction destroyed.

In 2012, J.C., a minor admitted an allegation of second degree burglary by shoplifting, a violation of Penal Code § 459 and § 460(a), and at the time, a felony.
In November, 2014, California voters passed Prop 47, which allowed qualified persons convicted of certain felonies to have the felony re-designated a misdemeanor. One of the felonies eligible for reduction is shoplifting when the value of the loss is less than $950 (Penal Code §459.5).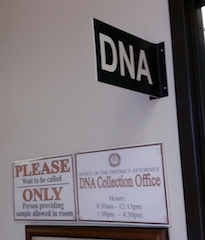 OC DNA Collection Office
In June, 2015, J.C. filed her petition seeking relief under Prop 47 (Penal Code § 1170.18), which does apply to juvenile offenders as well as adults. J.C. argued that the value of the items were less than $950. She also asked that in reducing the charge to a misdemeanor that the judge order her DNA record expunged from all records under Alejandro N.
The trial court judge in Contra Costa County granted J.C.'s petition to reduce the felony adjudication to a misdemeanor, but denied her request to have her DNA record expunged. In denying this, the trial court relied on
Coffey v. Superior Court
(2005) 129 Cal. App. 4th 809, in concluding that when a felony is reduced to a misdemeanor, there is no requirement that the DNA record be expunged.
After her request for expungement was denied, J.C. sought reconsideration of the denial in light of
Alejandro N
. While the motion for reconsideration was pending, the Governor signed Bill No. 1492, which amended Penal Code § 299. Penal Code § 299 addresses expungement of DNA records. Bill No. 1492 added § 1170.18 (Prop 47) to a list of statutes that do not authorize a judge to relieve a person of their duty to provide a DNA sample. In other words, Bill No. 1492 reversed
Alejandro N
. Bill No. 1492, it should be noted, also lists Penal Code §§ 17, 1203.4 (expungement), and 1203.4 a (expungement of an infraction).
Thus, the big issue facing the appellate court was whether the amended § 299 would operate retroactively. After all, the general rule is that statutes "do not operate retroactively unless the Legislature plainly intended them to do so."
In re Marriage of Fellows
(2006) 39 Cal. 4th 179, 183, fn. omitted. This general rule, however, rests on a particular definition of the term "retroactive."
In the law, a statute does not operate retroactively unless, when applied to preexisting circumstances, it alters the legal effect of those circumstances, e.g.
Myers v. Philip Morris Companies, Inc
. (2008) 28 Cal. 4th 828, 829. ("A statute that operates to increase a party's liability for past conduct is retroactive"). Thus, the application of a statute to events predating its enactment, while it might seem "retroactive" in the common use of the term, does not constitute a retroactive application under the law unless it changes the legal consequences of those events.
A corollary to these rules is that "a statute that merely clarifies, rather than changes, existing law does not operate retroactively even if applied to transactions predating its enactment."
Thus, the appellate court reasoned, Bill No. 1492 could not apply to J.C. if it were a retroactive bill. However, the appellate court found that Proposition 47 was vague on this issue of DNA expungement - it neither requires nor prohibits the expungement of DNA records. Therefore, Bill No. 1492 is not retroactive or impermissibly inconsistent with the intent of Prop 47 because Prop 47 did not indicate an intent on this issue at all. Bill No. 1492, instead, clarified the rights and consequences of Prop. 47.
Consequently, J.C.'s argument on appeal was rejected. Her argument certainly held allure early, but for reasons and developments she could not anticipate, her appeal was denied.

The citation for the First Appellate District Court ruling discussed above is In re J.C. (1st App. Dist., 2016) 246 Cal.App.4th 1462.

For more information about DNA collection issues and Prop 47 in general, please click on the following articles:
U.S. Supreme Court Rules It Is Permissible to Take DNA Samples from Those Accused of a Serious Crime
Contact us.